Cambium Networks cnMaestro X

Wireless Network Management System with Pro features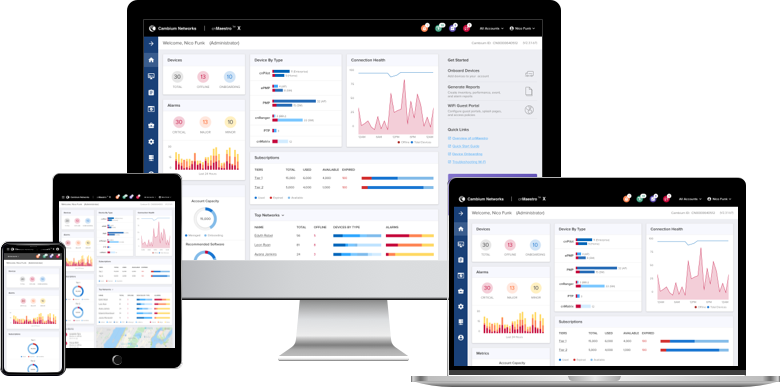 Cambium Networks Products
cnMaestro X Products
cnMaestro X for FWB, 1-year subscription
Includes SMs Advanced management and includes CC Pro for Tier1; 1-year subscription / Tier1 device; Tier1 device include FWB SM
#MSX-SUB-T1-1
Our Price: $8.00
cnMaestro X for FWB, 3-year subscription
Includes SMsAdvanced management and includes CC Pro for Tier1; 3-year subscription / Tier1 device; Tier1 device include FWB SM
#MSX-SUB-T1-3
Our Price: $16.00
cnMaestro X for FWB, 5-year subscription
Includes SMs Advanced management and includes CC Pro for Tier1; 5-year subscription / Tier1 device; Tier1 device include FWB SM
#MSX-SUB-T1-5
Our Price: $24.00
Click here to jump to more pricing!
Managing It All
Cambium's cnMaestro X is a simple but sophisticated next-generation network management solution for Cambium Networks wireless and wired and solutions. cnMaestro X offers elastic scalability and a single-pane-of-glass management to deliver secure, end-to-end network and wireless lifecycle management with zero-touch provisioning, monitoring, and troubleshooting capabilities. It simplifies operations and ongoing maintenance.
cnMaestro X supports advanced management capabilities bundled with Cambium Care Pro for 24x7 technical support, accelerated access to L2 engineers and regular software updates and upgrades for advanced features.
Detailed Features
cnMaestro X is a full-featured network management system. The features will continue to be enhanced and extended over upcoming releases. The functionality in cnMaestro includes the following:
MSP dashboard: MSPs can differentiate their brand to address specific sub-markets in their service area. The multi-tier customization gives the MSP tenant cloud tools to create an additional layer of guest portal customization – all managed from the cloud. MSP views consolidate the MSP tenant statistics, while allowing the MSP to drill down and support a tenant directly, without impacting data from other tenants or end users on the system. Support for up to 200 managed accounts.
Restful APIs and Webhooks for integration with existing OSS/BSS systems and event monitoring
Long-term historical data: 2-year data retention for FWB and 1-year data retention for Enterprise and IIoT devices.
Support for Software-Defined Radios (SDR) on XV3-8 Wi-Fi 6 Access Points (AP)
Mesh support for cnWave.
Support for 1024 enterprise Wi-Fi PSKs.
Advanced captive portal capabilities: 500 portals, 10,000 sessions, 1-month client login history
Monitor Wi-Fi performance from client or AP to cnMaestro X.
---
Other Key Features
Comprehensive cloud and on-premises management for Cambium Networks' wired and wireless portfolio is included with the hardware purchase.
Zero-touch provisioning: Create, provision, monitor and manage the entire network of wireless and wired devices from a single dashboard login with key performance metrics, alarms and alerts. The cloud-first UI design is easy to learn and apply across the portfolio and helps network administrators simplify operations and deliver an optimal client experience.
With centralized visibility and control for Cambium Networks' wireless and wired products, network administrators can quickly and easily deploy networks with minimal training. Whether you work on small sites or large distributed networks with thousands of sites, cnMaestro makes deployment and operations easy. Administrators have access to information needed to enforce policies and optimize performance. Remote support capability is integrated into the architecture, along with powerful help desk tools to debug remote issues without going onsite. Troubleshooting tools such as ping, traceroute, throughput, and live packet captures are included, dramatically reducing resolution times and enabling remote troubleshooting.
Deployment flexibility and TCO: Choice of public cloud, private cloud, or on-premises deployment with best TCO. cnMaestro helps reduce operating cost and accelerate return on investment. cnMaestro does not require Wi-Fi controllers, thereby reducing the complexity and cost of deploying Wi-Fi networks.
Built for scale and security at all levels: Devices connect to cnMaestro cloud using SSL-enabling deployments without changes to the firewall configuration. Cambium Intelligent edge architecture enables fault-tolerant networks where the network continues to operate even when the cloud is unreachable due to a WAN outage. With cnMaestro Essentials, you can manage networks with up to thousands of sites, and up to 10,000 devices
Tailored views for Enterprise, Access and Backhaul, and IIoT: The Access and Backhaul view provide visualization and control of devices from tower to edge. This includes PTP and PMP devices.
Supports network hierarchy, which enables easy configuration, monitoring and debugging at network nodes and reducing operational costs. This especially becomes critical for large networks or small distributed networks with small on-site IT staff.
• Provides a bird's-eye view of network health with insights on performance, connectivity and client experience. Administrators can quickly identify potential trouble spots and drill down from network to client-level details.
End to End Network Management from the Cloud:
Full Visibility Across the Network
Single pane of glass to manage an entire network, including backhaul point-to-point (PTP) links, point-to-multipoint (PMP) access and Wi-Fi. cnMaestro also features dedicated dashboards for each device, with common and centralized upgrade, zero touch provisioning, and device configuration workflows to minimize the learning curve for network managers.
Client End-to-End Wireless Troubleshooting
Access cnMaestro quickly from wherever you use secure HTTPS. With no need for a VPN connection, the cloud management system always has the latest updates and device software at your fingertips. It is also easily scalable – no need for up-front hardware expense; no need to deal with the complexities of server management and deployment.
Designed for Wireless
cnMaestro offers many ways to view wireless network data including maps, tables and historical charts to quickly assess a single device or an entire group. Wireless parameters and statistics are automatically available, enabling operators to focus on designing and growing their network, not their management system.
Pricing Notes:
Pricing and product availability subject to change without notice.
Cambium Networks Products
cnMaestro X Products
cnMaestro X for FWB, 1-year subscription
Includes SMs Advanced management and includes CC Pro for Tier1; 1-year subscription / Tier1 device; Tier1 device include FWB SM
#MSX-SUB-T1-1
Our Price: $8.00
cnMaestro X for FWB, 3-year subscription
Includes SMsAdvanced management and includes CC Pro for Tier1; 3-year subscription / Tier1 device; Tier1 device include FWB SM
#MSX-SUB-T1-3
Our Price: $16.00
cnMaestro X for FWB, 5-year subscription
Includes SMs Advanced management and includes CC Pro for Tier1; 5-year subscription / Tier1 device; Tier1 device include FWB SM
#MSX-SUB-T1-5
Our Price: $24.00
cnMaestro X for 3rd Party end points with T100 Devices
cnMaestro X for 3rd party end points, 1-year subscription
Includes cnMaestro X for managing 3rd party end points; 1-year subscription /T100 device; Tier100 device include 3rd party end points. 3rd party end points supported:Machfu
#MSX-SUB-T100-1
Our Price: $50.00
cnMaestro X for 3rd party end points, 3-year subscription
Includes cnMaestro X for managing 3rd party end points; 3-year subscription /T100 device; Tier100 device include 3rd party end points. 3rd party end points supported:Machfu
#MSX-SUB-T100-3
Our Price: $100.00
cnMaestro X for 3rd party end points, 5-year subscription
Includes cnMaestro X for managing 3rd party end points; 5-year subscription /T100 device; Tier100 device include 3rd party end points. 3rd party end points supported:Machfu
#MSX-SUB-T100-5
Our Price: $150.00
cnMaestro X for FWB AP, PTP and IIoT Devices with Advanced Management
cnMaestro X for FWB, 1-year subscription
Includes FWB AP, PTP and IIOT cnMaestro X for FWB: Advanced management and includes CC Pro for Tier2; 1-year subscription / Tier2 device; Tier2 devices include FWB AP, PTP and IIoT
#MSX-SUB-T2-1
Our Price: $30.00
cnMaestro X for FWB, 3-year subscription
Includes FWB AP, PTP and IIOT cnMaestro X for FWB: Advanced management and includes CC Pro for Tier2; 3-year subscription / Tier2 device; Tier2 devices include FWB AP, PTP and IIoT
#MSX-SUB-T2-3
Our Price: $60.00
cnMaestro X for FWB, 5-year subscription
Includes FWB AP, PTP and IIOT cnMaestro X for FWB: Advanced management and includes CC Pro for Tier2; 5-year subscription / Tier2 device; Tier2 devices include FWB AP, PTP and IIoT
#MSX-SUB-T2-5
Our Price: $90.00
cnMaestro X for Enterprise
cnMaestro X for Enterprise, 1-year subscription
Includes Enterprise APs cnMaestro X for Enterprise: Advanced management and includes CC Pro for Tier3; 1-year subscription / Tier3 device; Tier3 device includes Enterprise AP
#MSX-SUB-T3-1
Our Price: $50.00
cnMaestro X for Enterprise, 3-year subscription
Includes Enterprise APs cnMaestro X for Enterprise: Advanced management and includes CC Pro for Tier3; 3-year subscription / Tier3 device; Tier3 device include Enterprise AP
#MSX-SUB-T3-3
Our Price: $100.00
cnMaestro X for Enterprise, 5-year subscription
Includes Enterprise APs cnMaestro X for Enterprise: Advanced management and includes CC Pro for Tier3; 5-year subscription / Tier3 device; Tier3 device includes Enterprise AP
#MSX-SUB-T3-5
Our Price: $150.00
cnMaestro X for cnWave - Client/Distribution nodes
cnMaestro X for cnWave, 1-year subscription
Advanced management and includes CC Pro for Tier4; 1-year subscription / Tier4 device; Tier4 device include Client Node
#MSX-SUB-T4-1
Our Price: $15.00
cnMaestro X for cnWave, 3-year subscription
Advanced management and includes CC Pro for Tier4; 3-year subscription / Tier4 device; Tier4 device include Client Node
#MSX-SUB-T4-3
Our Price: $30.00
cnMaestro X for cnWave, 5-year subscription
Advanced management and includes CC Pro for Tier4; 5-year subscription / Tier4 device; Tier4 device include Client Node
#MSX-SUB-T4-5
Our Price: $45.00
cnMaestro X for cnWave, 1-year subscription
Advanced management and includes CC Pro for Tier5; 1-year subscription / Tier5 device; Tier5 device include Distribution Node
#MSX-SUB-T5-1
Our Price: $35.00
cnMaestro X for cnWave, 3-year subscription
Advanced management and includes CC Pro for Tier5; 3-year subscription / Tier5 device; Tier5 device include Distribution Node
#MSX-SUB-T5-3
Our Price: $70.00
cnMaestro X for cnWave, 5-year subscription
Advanced management and includes CC Pro for Tier5; 5-year subscription / Tier5 device; Tier5 device include Distribution Node
#MSX-SUB-T5-5
Our Price: $105.00