Cambium Network XV2-21X Indoor Wi-Fi 6 Access Point

Enterprise grade software-defined access point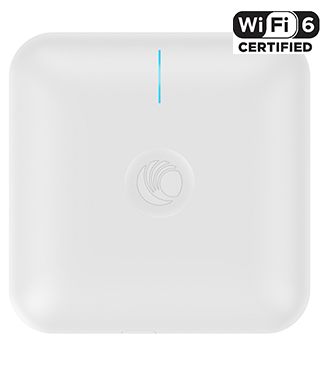 Cambium Networks Products
XV2-21X WiFi 6 Indoor AP
XV2-21X Indoor Dual radio WiFi 6 AP, 2x2, GbE
#XV2-21X0A00
Our Price: $375.24
Click here to jump to more pricing!
Overview:
XV2-21X Indoor Wi-Fi 6 Access Point At a Glance
The XV2-21X indoor ceiling mount 2×2 Wi-Fi 6 AP offers 2.97 total Gbps of bandwidth. Ideal for hospitality, MDU and small and medium business applications.
802.11ax Dual-Radio Indoor Access Point. Cambium Networks' XV2-21X Wi-Fi 6 indoor AP delivers a high-performance to price ratio that is attractive to any market.
Dual Radio Wi-Fi 6
5 GHz (2×2), 2.4 GHz (2×2)
1 GbE RJ45 interface
Managed by cnMaestro and/or Swift
Limited lifetime warranty
Value-Tier Wi-Fi for any market
Cambium Networks XV2-21X Wi-Fi 6 Indoor access point delivers a high-performance to price ratio attractive to any market.
The XV2-21X can be adopted and managed by any of the Cambium Networks management systems, cnMaestro™ Cloud, cnMaestro™ X, cnMaestro™ onpremises, or Swift app-based management. Choose the management type you need, and change it at any time. Unlike other value-tier access points, the XV2-21X is never locked into just one management selection.
Designed for fast installation
The XV2-21X offers multiple installation methods included in the same shipping box. Mount the AP to a ceiling tile using the included steel plate, mount to an existing junction box with 83mm center-to-center holes, twist lock the AP onto a 36mm, 24mm and 14mm T-bar, or simply mount it to any flat surface using the included wall anchors. No accessory brackets are needed.
---
Management
To serve a growing market for advanced management and services functionality, Cambium Networks offers cnMaestro™ in two different management tiers: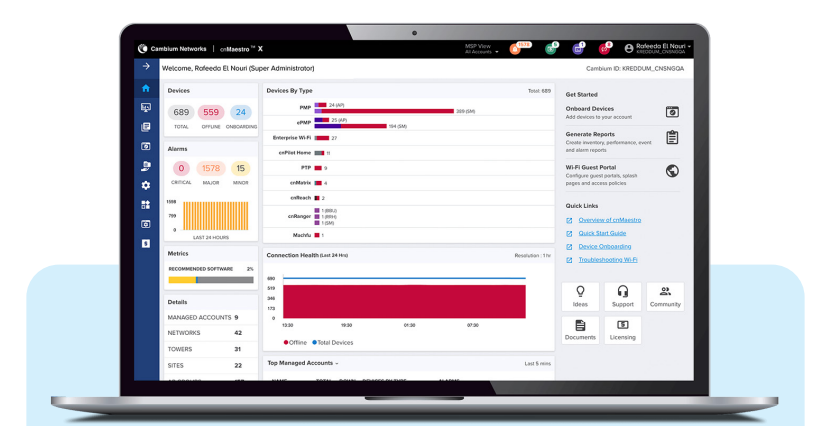 cnMaestro Essentials
License-free management that delivers a disruptive Total Cost of Ownership (TCO) for organizations of all sizes.
cnMaestro X
Paid subscription that includes:
Advanced device management capabilities./li>
Cambium Care Pro for 24x7 technical support.
Accelerated access to L2 engineers and regular software updates.
Upgrades for advanced features.
Views: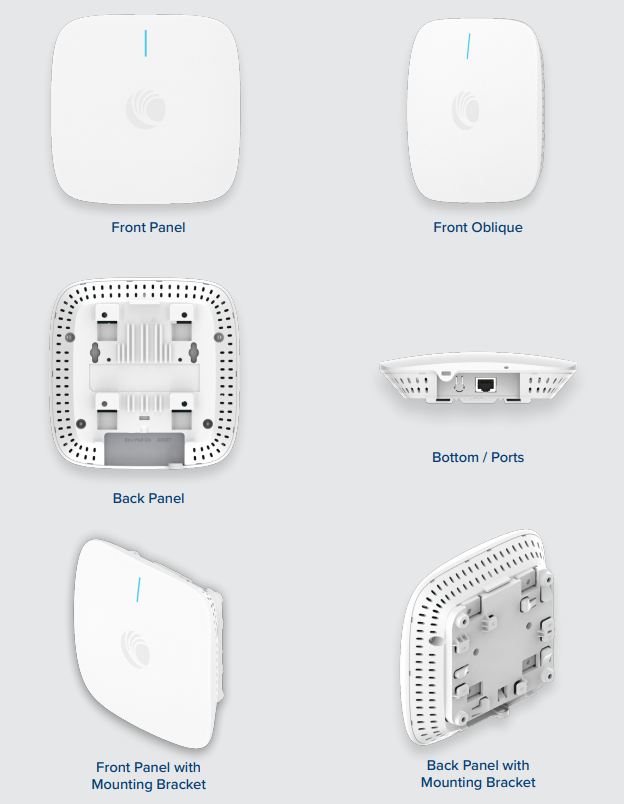 Antenna Patterns: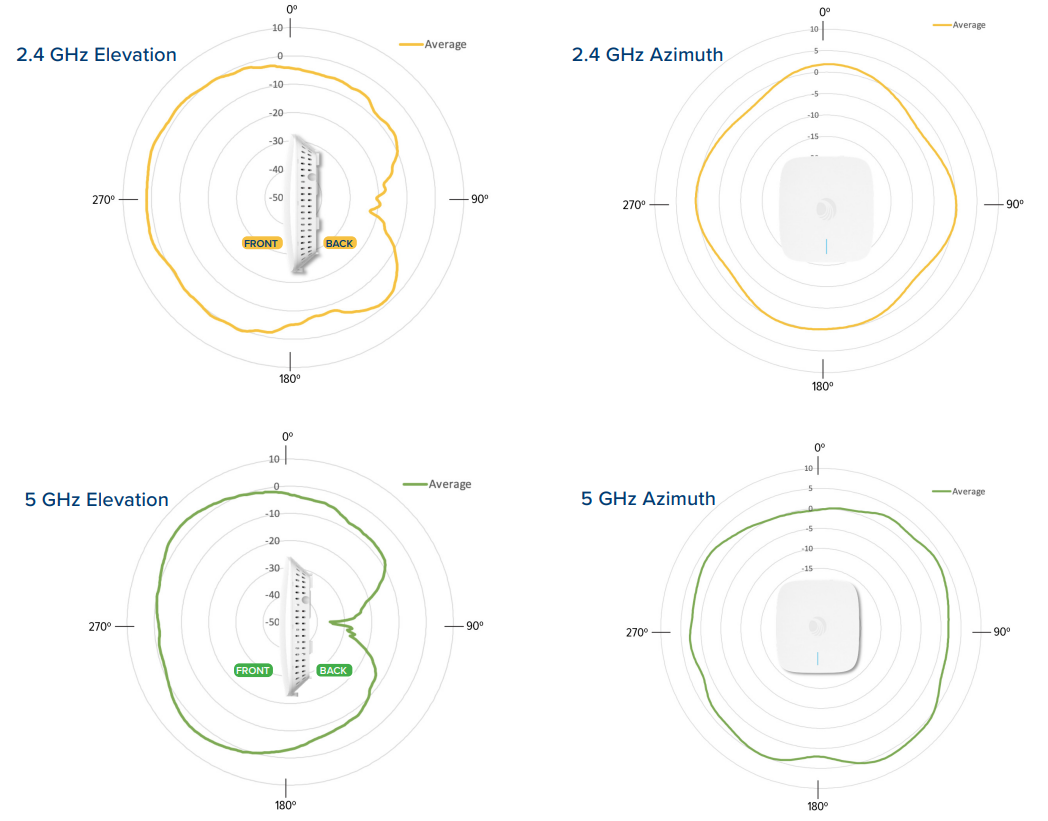 Specifications:
ACCESS POINT SPECIFICATIONS
Radios
5 GHz 802.11 a/n/ac Wave 2/ax, 2x2:2
2.4 GHz 802.11 b/g/n/ax, 2x2:2
Wi-Fi
802.11 a/b/g/n/ac Wave 2/ax
SSID Security
WPA3-SAE, WPA3-Enterprise, WPA2 (CCMP, AES, 802.11i), WPA2 Enterprise (802.1x/EAP), WEP, Open
Max PHY Rate
5 GHz radio 2402 Mbps
2.4 GHz radio 573.5Mbps
Ports
1 x IEEE 10/100/1000 Mbps
Antenna
5 GHz: 6 dBi
2.4 GHz: 5 dBi
Max EIRP
5 GHz: 33 dBm
2.4 GHz: 32 dBm
Power
Typical 11W, Maximum 12.95W 802.3af powered device
Dimensions
155 mm x 155 mm x 37 mm
(6.1 in x 6.1 in x 1.46 in)
With Bracket:
155 x 155 x 46 mm
(6.1 x 6.1 x 1.81 in)
Weight
475g (1.05 lbs)
LEDs
Multi-color status LEDs, dimmable, on/of
Ambient Operating Temperature
0ºC to 50ºC (32ºF to 122ºF)
Storage Temperature
-40ºC to 70ºC (-40ºF to 158ºF)
Humidity
95% RH non-condensing
MTBF
1,980,244 hours at 50ºC ambient (estimated)
Mount Options
Wall or ceiling, T-bar with included locking bracket, ceiling tile plate
Certifications
Passpoint 3.0, 802.11 a/b/e/g/i/k/n/r/u/v/w/ac/ax, PP2.0 FCC, IC, ETSI, CE, EN 60601-1-2, IEC60950, UL2043, EN 61373
Network Specifications
Operational Modes
Controller-less standalone Cloud-managed cnMaestro, VM
WLAN
16 WLAN profiles per radio 128 clients per radio, 16 SSIDs, WPA-TKIP, WPA2 AES, 802.1x 802.11w PMF
Guest Access/ Captive Portal
cnMaestro, On-AP hosted guest portal
Social login, Voucher based login, SMS gateway, Payment gateway support. Supports radius based authentication. cnMaestro API support for external captive portal integration.
Authentication Encryption
Hotspot 2.0, 802.1x EAP-SIM/AKA,
EAP-PEAP, EAP-TTLS, EAP-TLS, MAC
Authentication local database or RADIUS
Scheduled WLAN
On/off by day, week, time of day
Data Limit
Client bitrate/time/throughput limit per SSID
Subscriber QoS
WMM
Fast Roaming
802.11r, OKC, cnMaestro assisted roam
Mesh
Multi-hop, either band
Channel Selection
Multi-modal channel selection with AutoChannel and autotune (cnMaestro)
| | |
| --- | --- |
| RF Management | Multi-Modal RF optimization supporting AutoRF (cnMaestro) performed in the intelligent edge AP. Out of band RF spectrum analysis, RF monitor with chn/ noise/interference |
| Network | TCP connection log, NAT logging firewall, DHCP server, L2, L3 or DNS based access control, VLAN Pooling, RADIUS attribute VID VLAN per SSID per user |
| Band Steer Load Balance | Yes |
| Tunnel | L2TPv2, L2GRE, PPPoE |
| Network Tools | Wired and wireless remote packet capture, logging, ZapD |
| Network and RF Management Tools | Wired and wireles remote packet capture, ZapD performance tool, rogue AP detection |
| Services | L2-L7 application visibility & control, WiFi Calling control, WIDs/WIPs, NTP, Syslog, SNMP traps, DNS proxy, auto-off on WAN failure |
| API | RESTful management and statistics API Presence location APIs |
| IP | IPv4, IPv6 |
Pricing Notes:
Pricing and product availability subject to change without notice.
Cambium Networks Products
XV2-21X WiFi 6 Indoor AP
XV2-21X Indoor Dual radio WiFi 6 AP, 2x2, GbE
#XV2-21X0A00
Our Price: $375.24