XMS-Cloud Management

A massively scalable platform that eliminates on-site system maintenance.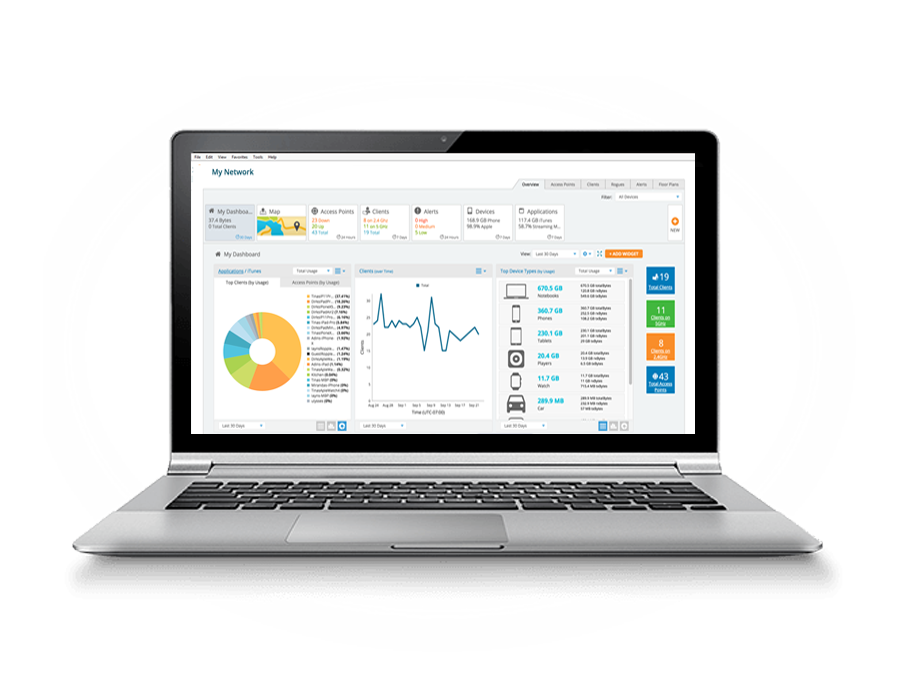 Cambium Networks Products
XMS-Cloud Management
XMS-Cloud 1 year subscription: 2-radio AP including Cambium Care Advanced Support
#XMSC-SUB-2R-1
Our Price: $90.00
XMS-Cloud 3 year subscription: 2-radio AP including Cambium Care Advanced Support
#XMSC-SUB-2R-3
Our Price: $180.00
XMS-Cloud 5 year subscription: 2-radio AP including Cambium Care Advanced Support
#XMSC-SUB-2R-5
Our Price: $270.00
Click here to jump to more pricing!
Overview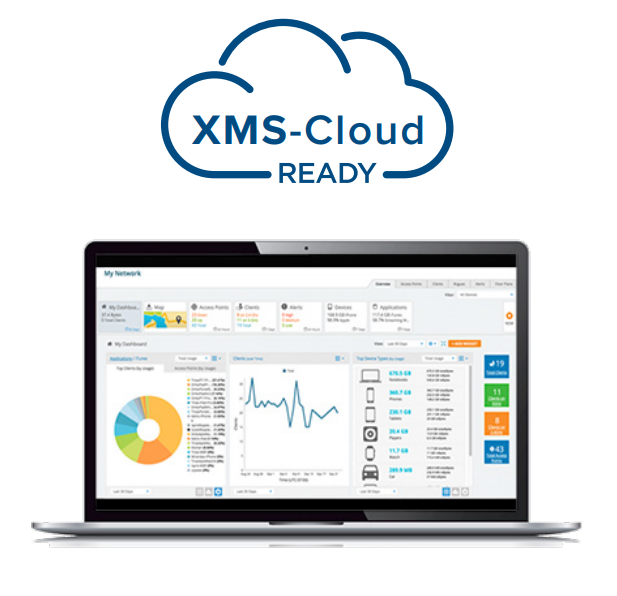 XMS-Cloud is a powerful management solution for deploying and managing Cambium Networks Wi-Fi and Switching portfolios with complete control and visibility. It provides zero-touch activation to automated software upgrades, patches, and licenses. IT enjoys the benefits of a superior console interface where all services are integrated at no extra cost. The system supports Wi-Fi devices, including IoT endpoints, regardless of operating system. DPI technology lets network administrators control up to 2,000 applications at the network's edge where they can be allowed, blocked, or throttled to achieve predictable performance, even under heavy network load.

As budgets diminish and time becomes a scarce commodity, cloud services bring affordability and efficiency to network management. XMS-Cloud is a powerful solution for deploying and managing your Wi-Fi network with complete control and visibility.
Features
Bring affordability and efficiency to your organization with Xirrus Management System-Cloud (XMS-Cloud)
Our cloud managed Wi-Fi solution is a power tool for deploying network that delivers complete control and visibility—anytime, anywhere.
With XMS-Cloud you get:
Ultimate Simplicity
Meet growing and ever-changing needs for enterprises, educational institutions, and service providers with the XMS-Cloud future-proof platform. Includes TLS for robust security and firewall-friendly communications, bi-directional messaging protocols for nearly instantaneous changes and alerts, and a NoSQL distributed database to handle today's increasing performance demands.
Massive Scalability
Accommodate current and future needs as Wi-Fi device use continues to grow. Built on the same scalable, next generation NoSQL database used by the largest Internet companies, XMS-Cloud services support multi-tenancy and networks using tens of thousands of APs and clients. Support peak usage scenarios with the flexibility of a SaaS solution allows for easy scaling.
Benefits: XMS-Cloud delivers
Highly Resilient
No centralized control means no single-point-of-failure so you can ensure your system stays up and so do mission-critical applications. Even if the network goes down and a cloud connection is lost, APs act autonomously meaning security and traffic are processed directly at the network edge. XMS-Cloud also offers complete data center redundancy and data replication for guaranteed service availability. 
Robust Security
Multi-level security is crucial to ensure data privacy and protection. XMS-Cloud is a true multi-tenant platform that provides data isolation among different cloud tenants. User traffic remains on the firewall-protected LAN and cloud connectivity is only required for out of band management functionality. Standards-based encryption hides communications between a customer site and the cloud.
Instant Access
Give users simple, secure access to the Wi-Fi network with EasyPass—including employees, guests, customers, BYOD or IoT devices. IT administrators can track user activity from a single dashboard for security and control. EasyPass integrates with Microsoft Office 365 (Azure) and Google App ecosystems for simple single sign-on (SSO) to access domain resources. And with EasyPass Personal users can create a secure, personal network on a public Wi-Fi network. 
Specifications:
Management System Details

Deployment

Cloud-Hosted Web Portal

Managed Service Provider Accounts Multi-Tenant Provisioning

Redundant Cloud Services

Location Services

Integrated Location with Floor Plans Client X-Y Location with Device Identification

Rogue AP X-Y Location

Visualization

Fully Customizable Dashboards

Dashboard Filter by AP Group, Profile, SSID Supports Wi-Fi 6 and Xirrus Wi-Fi Geographical Maps for Site Location

RF Coverage Heat Maps

Analytics

Dwell Time Over Time – 4 Ranges

Number of Visitors Over Time – New, Recurring

1 Year Data Retention

Monitoring

Fully Customizable Dashboards

Client Troubleshooting

Client Health Score

Client Health Statistics Over Time

20 Dashboard Widget Options

Client Application Usage

Trending Views by Hour, Day, Week, Month

Forensic View by Hour, Day, Week, Month

Multi-Level Severity Alerting Email and SMS Alert Notification

Application Visibility

2,000+ Applications by Category and App

Onboarding and Provisioning

Zero-Touch Provisioning Profile-based Configuration

Top APs by Application

Assign Default Profile

Policy Control

L2/3 Firewall

Automatic Bulk Software Update

L7 Application Control

Schedule Software Updates

Air Cleaner Filter

Policies by User Group, Device Type, SSID, Personal SSID, or Globally

Time of Day

Access Services

Integrated EasyPass Access Services Customizable Guest Portals (Self Register or Ambassador)

Social Login, Mobile Number Collection, Ad insertion

One-Click and Voucher Portals

Microsoft Azure and Google G Suite SSO Portals

Reporting

Customized Report Generator Scheduled Email Reports

Filter by AP Group, Profile, SSID

1 Year Historical Data Retention

Onboarding Portal for BYOD and IoT

RESTful Monitoring/Provisioning API

Self Onboarding

Export UI Tables in CSV or PDF

Personal Wi-Fi Portal

Administration

Role-based Access

Security

Rogue AP Detection and Location

Audit Trail

AP Communications Over SSL

Command Line History

No Inbound Internet Access

SSO through Azure, Google, and Generic

Not-in-Traffic Path (GRE exception)

SAML

Disaster Recovery
Pricing Notes:
Pricing and product availability subject to change without notice.
Cambium Networks Products
XMS-Cloud Management
XMS-Cloud 1 year subscription: 2-radio AP including Cambium Care Advanced Support
#XMSC-SUB-2R-1
Our Price: $90.00
XMS-Cloud 3 year subscription: 2-radio AP including Cambium Care Advanced Support
#XMSC-SUB-2R-3
Our Price: $180.00
XMS-Cloud 5 year subscription: 2-radio AP including Cambium Care Advanced Support
#XMSC-SUB-2R-5
Our Price: $270.00
XMS-Cloud 1 year subscription: 4-radio AP including Cambium Care Advanced Support
#XMSC-SUB-4R-1
Our Price: $160.00
XMS-Cloud 3 year subscription: 4-radio AP including Cambium Care Advanced Support
#XMSC-SUB-4R-3
Our Price: $320.00
XMS-Cloud 5 year subscription: 4-radio AP including Cambium Care Advanced Support
#XMSC-SUB-4R-5
Our Price: $480.00