Cambium Networks PMP 450i

Cambium Networks PMP 450i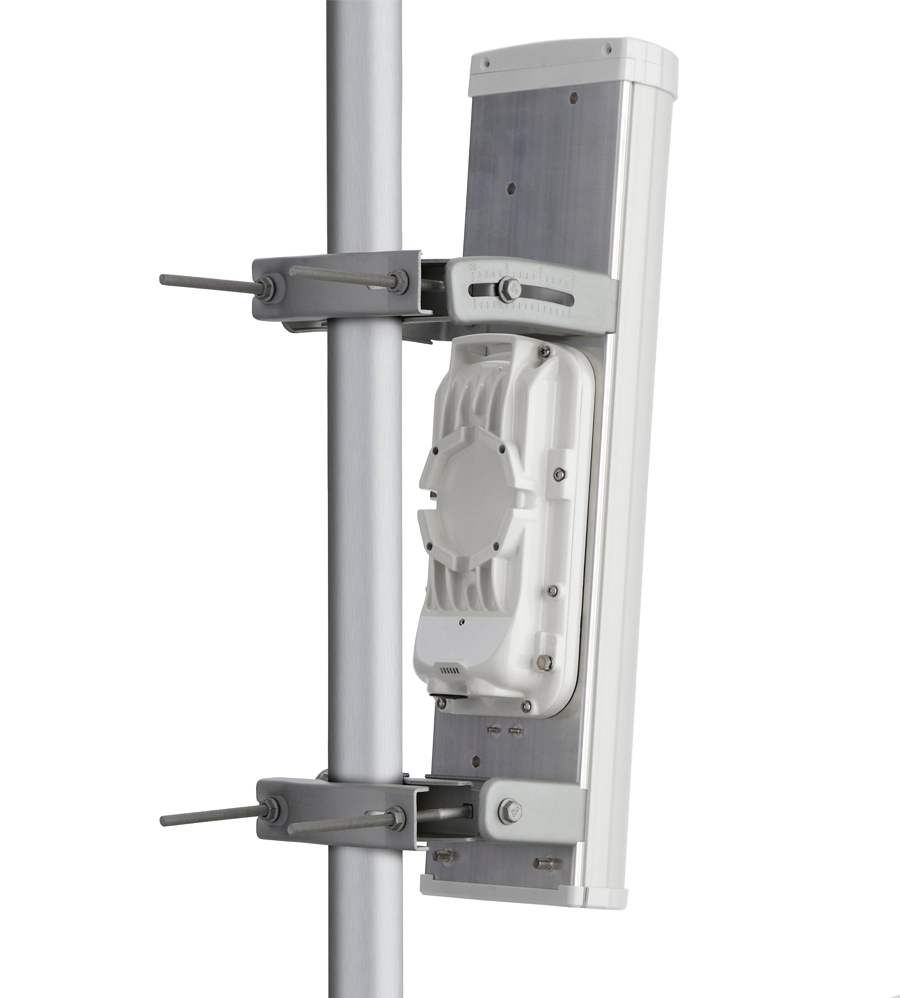 Cambium Networks Products
PMP Products
5 GHz PMP 450i Connectorized Access Point (FCC)
#C050045A002B
Our Price: $3,411.72
3 GHz PMP 450i Connectorized Access Point
#C030045A001A
Our Price: $3,411.72
Click here to jump to more pricing!
Features:
MULTIFUNCTION AUX PORT
Allows for greater flexibility for deployment by adding a camera or other PoE directly
OPTIONS FOR INTEGRATED 90° SECTOR ANTENNA
optimized for frequency re-use (>35 dB F/B), high gain, null fill and predictable performance, or Integrated 10° sector antenna for highly directional sectors.
INCREASE THROUGHPUT
Now capable of up to 300 Mbps per sector in a 40 MHz channel.
Specifications:
Physical

3 GHz

5 GHz

Antenna Connection

50 ohm, N-Type (Connectorized version only)

Surge Suppression (LPU fitted)

EN61000-4-5: 1.2us/50us, 500 V voltage waveform

Recommended external surge suppressor: Cambium Networks Model # C000000L033A

Mean Time Between Failure

>40 Years

Dust and Water Ingress Protection Rating

IP67,

IP66

Temperature / Humidity

-40°C to +75°C (-40°F to +167°F), 0-100% condensing

Weight

Connectorized

Approx. 2.0 kg (4.5 lbs) Approx. 2.0 kg (4.5 lbs)

Integrated

Approx. 7 kg (15.5 lbs) Approx. 6.8 kg (15 lbs)

Wind Survival

322 km/h (200 mi/h)

Vibration

NEMA TS2 Section 2.1.9

and Section 2.2.3

Shock

NEMA TS2 Section 2.1.10 and Section 2.2.4
Interface

MAC (Media Access Control) Layer

Cambium Networks proprietary

Physical Layer

2x2 MIMO OFDM

Ethernet Interface

100/1000BaseT, full duplex, rate auto negotiated (802.3 compliant)

Protocols Used

IPv4, IPv6, UDP, TCP/IP, ICMP, Telnet, SNMP, HTTP, FTP

Network Management

IPv4/IPv6 (dual stack), HTTP, HTTPS, Telnet, FTP, SNMPv2c and v3, Cambium Networks cnMaestroTM

MTU

1700 bytes

VLAN

802.1ad (DVLAN Q-inQ), 802.1Q with 802.1p priority, dynamic port VID
Performance

Subscriber Per Sector

Up to 238 - *Lite models limited to 20 Subscribers,

License Key (C000045K010A) available to remove this limit

ARQ

Yes

Modulation Levels (Adaptive)

MCS

Signal to Noise Required (SNR, in dB)

2x

QPSK

10

4x

16QAM

17

6x

64QAM

24

8x

256QAM

32

Maximum Deployment Range

Up to 40 miles (64 km)

Latency

3 - 5 ms, typical

GPS Synchronization

Yes, via Autosync (CMM5 or UGPS)

Quality of Service

Diffserve QoS
Link Budget

Integrated Sector Antenna

90° Azimuth, 8° Elevation (3dB rolloff), 2° Electrical Downtilt, Dual polarity, or

10° Azimuth, 10° Elevation (3dB rolloff), Dual polarity

Antenna Gain

17 dBi ± integrated 90° sector , 23 dBi ± 1 dBi integrated 10° sector

Maximum Transmit Power

+28 dBm (MIMO, Combined H+V) (+25 dBm for 3 GHz) (may be limited by regulations)

Maximum EIRP

+43 dBm combined output (may be limited by regulations)

VSWR

1.5, Reflection Coefficient 0.2, Reflected Power 4%, Return Loss 14 dB

Power Control

ATPC (Automatic Transmit Power Control) at system level, all Subscribers implement ATPC
Pricing Notes:
Pricing and product availability subject to change without notice.
Cambium Networks Products
PMP Products
5 GHz PMP 450i Connectorized Access Point (FCC)
#C050045A002B
Our Price: $3,411.72
3 GHz PMP 450i Connectorized Access Point
#C030045A001A
Our Price: $3,411.72