Cambium Networks cnPilot E410 Indoor

Gigabit 802.11ac Wave 2 Dual Band 2x2 Indoor Access Point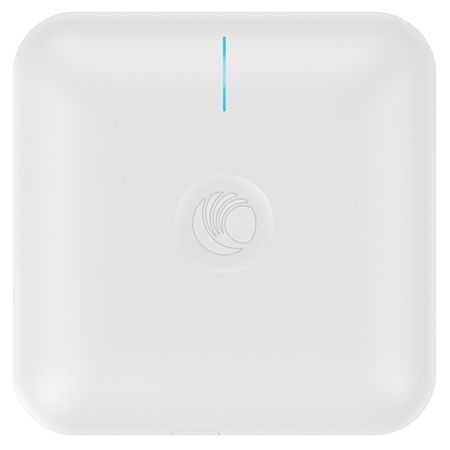 Cambium Networks Products
cnPilot Enterprise Indoor Wi-Fi
cnPilot E410 Indoor (FCC) 802.11ac wave 2, 2x2, Access Point
#PL-E410X00B-US
Our Price: $288.90
Click here to jump to more pricing!
Overview:
The plenum-rated e410 with 2×2 MIMO packs a max transmit power of 25 dBm and is DFS certified to utilize additional reserved 5 GHz DFS channels – offering more flexibility than ever for both coverage.
The compact low profile 802.11ac Wave 2 Multiuser MIMO (MU-MIMO) beamforming, high speed E410 Enterprise access point future proofs your Indoor access point deployments and is perfect for Schools, Indoor public spaces, Malls, Hotels and Resorts (Hospitality), Coffee shops, Multi-dwelling units (MDUs) or just about any place indoor that needs reliable high performing access points.
High Performance Enterprise
Affordable enterprise-grade high-density 802.11ac Wave 2 indoor access points for schools, indoor public spaces, malls, hotels and resorts, coffee shops, multi-dwelling units (MDUs), or just about any place indoors that needs reliable, high-performance indoor Wi-Fi.
A powerful business wireless internet solution targeted for small and medium-sized enterprises.
cnMaestro
Cambium's cnMaestro Cloud-based or on-premises controller offers zero touch onboarding, inventory tracking, monitoring, easy configuration, dashboard views, and more.
Powerful simplicity
No controller. No expensive licensing fees – just seamless controller-less roaming for up to 1,000 clients.
Monetize your Wi-Fi service
Create fast guest access features with semi-customized splash pages, and time- and rate-limited access. Access options like social login and vouchers available with purchase are ideal for guest Wi-Fi in hotels, coffee shops, and offices.
Indoor/Outdoor Wi-Fi mesh for flexibility
Customize and expand networks easily with wireless mesh that can integrate or cover multiples of both the indoor and outdoor modules.
High capacity coverage
The plenum-rated with 256-user capacity and up to 16 SSIDs ensures network adaptability to the dynamics of growing demand, with advanced features like airtime fairness, Automatic Channel Scanning (ACS), and high client device speeds with band steering.
License-free affordable quality
All cnPilot e-series AP sales include a free controller, no AP management license fees, and no hidden charges.
The cnPilot Wi-Fi Network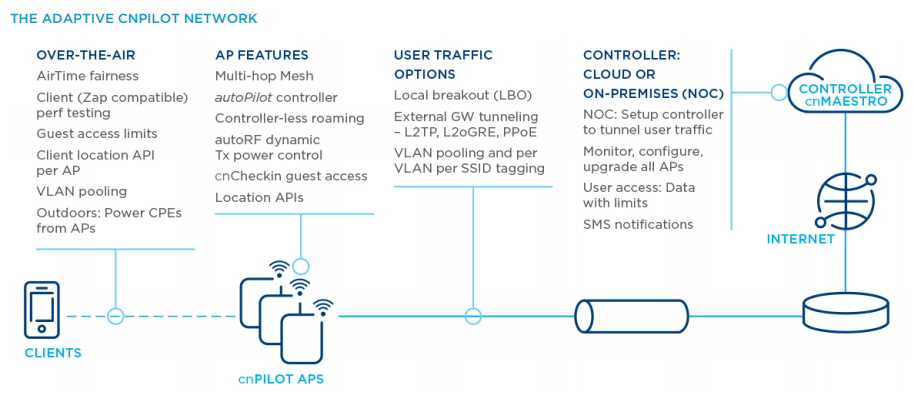 Features:
Controller Managed + Autonomous
Managed by Cambium's cnMaestro cloud controller or On-premises controller, the cnPilot E410 management includes:
Zero touch onboarding
Inventory tracking
Monitoring
Mass Configuration
Dashboard views with Alarms
Mass upgrade
Troubleshooting
Hierarchical device organization
Controller-Less Roaming. Powerful SImplicity
The E410 supports seamless roaming for up to 1,000 clients without needing a controller in the network! Hotspot portal hosting on the AP itself offers controller-less simplicity.
Monetize: Vouchers. Social Login
Monetize your Wi-Fi service: cnMaestro's Guest access feature supports splash page hosting, social login and payment gateway. All built-in power packed features available right on the controller! These features along with the ability to create time, rate and volume limited traffic profiles along with vouchers for temporary guest access makes the E410 ideal for Hotels, Coffee shops, Campgrounds, and Office guest Wi-Fi.
Service Aware WLANs. Better User Experience.
Nothing is more frustrating than connecting to an Access point, but not getting to the Internet! When connection to a critical resource such as an external Gateway or AAA is down, the E410 can turn off the impacted SSIDs enabling client devices to select a different working neighboring Access point.
Indoor/Outdoor Wi-Fi Mesh. Flexibility.
Indoor meshing across multiple E410s or Indoor/Outdoor meshing across the Indoor E410 and the Outdoor E500 offers a convenient way to easily expand Wi-Fi coverage without wires.
Coverage, Capacity. Speed.
The plenum rated E410, packs a max transmit power of 25 dBm, and is DFS certified to make use of additional reserved 5GHz DFS channels, offering more flexibility than ever for both coverage and capacity. Throughput management via Airtime fairness, increased performance by Automatic channel scanning (ACS), and higher client device speeds from Band steering ensure your network can adapt to the dynamics of ever changing client behaviors.
High Density, Highly Available
A capacity of 256 max concurrent client associations, and 16 SSIDs, along with dual on-board Active/Standby memory banks ensure the E410 combines high density with high availability.
License Free High Performance. One Low Price.
The 802.11ac wave 2 E410 comes with a free controller, and no AP management license fees. No hidden charges. Affordable.
Adaptive Wi-Fi Architecture:
A variety of access architectures have evolved over two decades of increasing Wi-Fi use within organizations. Some have been driven by product limitations; others have been created to meet security or regulatory requirements.
Among the many questions that arise during network design, administrators need to address the following:
Management – Will the operation benefit more from a cloud-based or on-premises management system?
Traffic separation – Are the organization's requirements best served by local breakout of Wi-Fi traffic, or the extra separation of traffic made possible by tunneling user data to a controller?
Many vendors' solutions lock administrators in to a particular deployment model or network traffic distribution system, but Cambium Networks believes that Wi-Fi network design should conform to the organization's needs, not the other way around.
Cambium Networks cnPilot's Adaptive Wi-Fi architecture enables Wi-Fi integration with existing wired network infrastructure and the cnMaestro™ management system provides scalable, flexible management in addition to Wi-Fi controller features.
The Key Architectural Choices Are:
Where does your user data traffic go? The Wi-Fi AP can bridge it onto Ethernet (also known as local break out). Another option is to tunnel it over an IP-based protocol to a tunnel terminator, which can be a wireless controller or a different third party concentrator.
Where does your Wi-Fi controller and management system run? Some organizations prefer the convenience of a vendor operated cloud-based management system. Others prefer in-house operation – usually with controllers that can manage tens of thousands of access points. For very small deployments, it can make most sense to configure an AP to perform the duties of a controller.
Regardless of your requirements, cnPilot and cnMaestro offer customizable options for a complete Wi-Fi solution that meets your needs.
cnMaestro Cloud

Zero-touch deployment and Cloud-based management lets you easily deploy and control even large networks without requiring an IT team. Cambium operates cnMaestro™ in the cloud, scaling easily to thousands of devices – at no cost to you. The Cambium cloud is a highly redundant system with servers across the globe to ensure high uptime, with a secure HTTPS channel dedicated to communication between Wi-Fi APs and the cloud. cnMaestro™ advanced controller features include scalable guest access and remote login, allowing you to access your management console from anywhere in the world without having to VPN into your organization's internal network.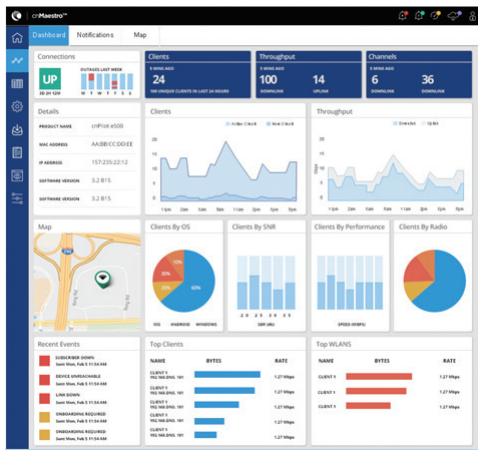 cnMaestro Dashboard
cnMaestro On-Premises

Organizations may choose on-premises management for a variety of reasons. Regulatory or security requirements, or simply preference for in-house management solutions may limit cloud-based control capability. cnMaestro on-premises management is perfect for such organizations, providing the same set of features as cnMaestro cloud management in a virtual appliance package.

cnMaestro on-premises can also terminate data traffic tunneled from cnPilot APs over a tunnel and bridge it out over an isolated VLAN. This is useful if, for instance, you never want to bridge guest traffic at the edge of your internal network.
cnPilot Autopilot

For very small deployments that will not use cloud-based management, cnMaestro on-premises may be impractical for just a few APs. In that case, cnPilot Autopilot lets you designate and configure a master AP to perform double duty as a wireless controller for up to 32 other APs in addition to providing normal Wi-Fi service. All monitoring and configuration can be done from the master AP's UI.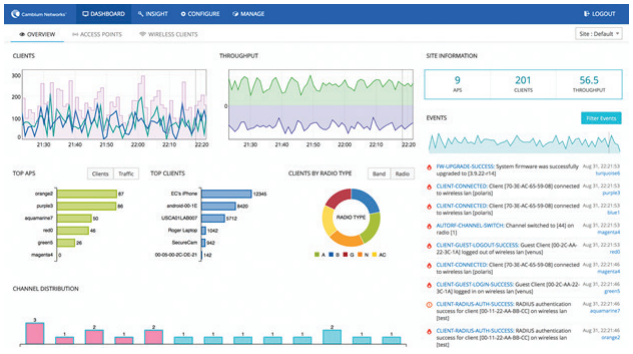 Autopilot
cnPilot and cnMaestro solutions from Cambium Networks make it easy for network administrators to design reliable, efficient connectivity solutions that scale and migrate easily to other architectures according to demand.
Specifications:
cnPilot E410 Specifications
Access Point Specifications
Standards
IEEE 802.11a/b/g/n/ac Wave 2
Others: 802.11 h/d/r/u/w/
MIMO Streams
2x2 MIMO streams
Range
180 m (650 Ft)
Concurrent Clients
256
Max Data Rates
1.3 Gbps (1,267 Mbps)
SSID
16 SSIDs across 2 radios
Antenna gain
4.55 dBi (2.4 GHz)/4.25 dBi (5 GHz)
Multi-Hop Mesh
Yes. Supported on Indoor & Outdoor access points.
Mesh auto-recovery supported
Polarization
Dual-linear
Antenna Coverage
Omni (360°)
Ethernet Ports
One (1) x 1 Gigabit Ethernet (10/100/1000 Mbps)
Frequency bands
2.4 GHz: 2400-2484 MHz
5 GHz: 5150-5850 MHz with DFS band support
Power Supply
Standard 802.3af injector (supplied) or any PoE switch
Power Consumed
13W (max)
Dimensions
170 x 170 x 41 mm (17 x 17 x 4.1 cm)
Weight
384grams (0.384kg)
Temperature
0°C to +50°C
LED
Single LED window with tri color (Amber, Blue, Green) display
Max TX Power
+25 dBm
Physical Lock
Kensington key hole
Wi-Fi Features
Controller modes

Autonomous Controller-less operations (E.g.: roaming)
Cloud Managed
On-premise virtualized controller

Secure WLAN

WPA-TKIP, WPA2 AES, 802.1x
802.11w (Protected Management Frames)

Hotspot 2.0/Passpoint
Yes
Captive Portal/ Guest Access

cnMaestro Controller
Stand-alone AP based
Redirection to external RADIUS Server
Active Directory Integration

Authentication

Secure Web page, RADIUS based 802.1x including EAP-SIM/AKA, EAP-PEAP, EAP-TTLS, and EAP-TLS
MAC authentication (local database or External RADIUS server)

Accounting
Yes. Supports RADIUS based accounting to multiple AAAs
Scheduled SSID
Turn SSID ON/OFF on a daily/weekly/time of day basis
VLAN

Dynamic VLAN assignment from RADIUS server.
VLAN per SSID per user, VLAN load balancing

Data Limiting
Dynamic rate limiting of client traffic per SSID & per client
Subscriber QoS
WMM
Client Isolation
Yes
Controller-Less Fast Roaming
Yes. 802.11r, Opportunistic Key Caching supports Enhanced roaming Disconnect for sticky clients
Airtime Fairness
Yes
Meshing
Multi-hop meshing supported (3)
ACS: Automatic Channel Selection
Yes. Set at start or run periodically
NAT
Yes
DHCP Server
Yes
Firewall
Yes. NAT logging
ACL, DNS-ACL
Yes. L2, L3 or DNS based access control
Band Steering Band Balancing
Yes
Airtime Fairness
Yes
Tunneling
Tools

Packet capture
IP connectivity
Wi-Fi analyzer
Wireless Sniffer
Tech support (logs)

Services

NTP server config
Syslog servers
SNMP traps support
DNS proxy
cnPilot's critical resource service awareness feature reacts to the health of an external Gateway or AAA and turns SSID ON/OFF

APIs
Presence Locationing API
Certifications
FCC, ETSI, CE
EN 60601-1-2 (Medical EMC)
UL2043 Plenum rated
cnMaestro Wi-Fi Controller
Cloud & On-Premises
Available in the Cloud or as a downloadable VMware® image (Onpremises)
Common Manager
Manage both cnPilot and Cambium's ePMP and PMP 450 radios
Troubleshooting
Single screen wireless view, showing Wireless backhaul, Access point & clients
Frictionless On-Boarding
Secure large scale bulk onboarding
Zero touch bulk configuration and provisioning
Device Inventory
Inventory tracking and reporting
Monitoring
Insightful status monitoring; rich visibility to device lifecycle
Alarms and events management – Critical/Major/Minor
Statistics graphs and table display
Alarm traffic light display
Key Stats Monitoring
7 day historic stats
Portal Hosting
Setup Hotspot portals segmented by SSIDs
Voucher
Time and Rate limited Guest access portals with Vouchers for 1,000 client devices
Social Login
Facebook, Google
Site Grouping
Group sets access points for convenient management
Client Insight
Shows client history with aggregate client manufacturer views
Multiple Admins
Multiple admin provisioning per account
Software Upgrade
Ability to upgrade multiple WiFi devices at a time
Pricing Notes:
Pricing and product availability subject to change without notice.
Cambium Networks Products
cnPilot Enterprise Indoor Wi-Fi
cnPilot E410 Indoor (FCC) 802.11ac wave 2, 2x2, Access Point
#PL-E410X00B-US
Our Price: $288.90
cnPilot Extended Warranty
cnPilot E4XX Extended Warranty, 1 Additional Year
#EW-E1PLE4XX-WW
Our Price: $6.50
cnPilot E4XX Extended Warranty, 2 Additional Years
#EW-E2PLE4XX-WW
Our Price: $11.75
cnPilot E4XX Extended Warranty, 3 Additional Years
#EW-E3PLE4XX-WW
Our Price: $15.50
cnPilot E4XX Extended Warranty, 4 Additional Years
#EW-E4PLE4XX-WW
Our Price: $17.75
cnPilot E4XX Limited Lifetime Warranty
#EW-LLPLE4XX-WW
Our Price: $23.00
cnPilot Accessories
56VDC, 15W Gigabit PoE Injector for e410/e425H/e430H/e505 APs
#N000900L017A
Our Price: $18.00
Cable, UL power supply cord set, 720mm, U.S. plug for N000900L017A and N000000L034A PoE injectors
#N000900L031A
Our Price: $5.40