Cambium Network Xirrus Rapid Deployment Kit

Wireless Connectivity where you need it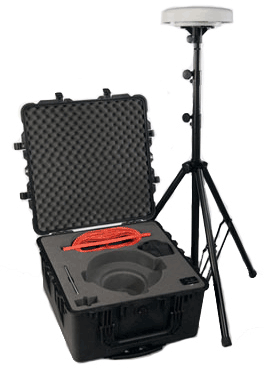 Cambium Networks Products
Rapid Deployment Kit Accessories
Rapid Deployment Kit cases, cables, and tripod for XR-4000 Arrays
#XK-4000-RAPID-CASE
Our Price: $3,000.00
Click here to jump to more pricing!
Overview:
The Cambium Network Xirrus Rapid Deployment Kit (RDK) simplifies the setup of a mobile wireless network in combination with a Cambium Network Xirrus Wireless Array. The RDK includes a tripod stand, mounting hardware, protective covers, data cables, and a quick start guide - all packed in two rugged carrying cases for easy mobility.
The combination of a Cambium Network Xirrus Wireless Array and the RDK provides a robust temporary Wi-Fi connectivity solution, supporting voice, video, and data access across a large area well suited to support meetings, conferences, expositions, festivals, disaster response, and command posts.
The RDK can be used with Cambium Network Xirrus XR- and XN-series Wireless Arrays supporting up to 1280 users per device without the complexity of deploying multiple access points, antennas, controllers, or other hardware.
At A Glance
Integrated design
Indoor and outdoor useage
Quick physical setup in less than 10 minutes
Wide coverage range - over 1000' line of site or 200' with obstructions
Flexible uplink options via Ethernet - DSL, Cable, 3G, Satellite
Each Rapid Deployment Kit Includes
Tripod Mounting Stand
The tripod stand opens easily to securely support the Array on any relatively flat surface, with no tools required. Easily position the Array up to 10 feet above ground level for maximum coverage.
Protective Array
Covers Weather resistant protection for the Array with the included Cambium Network Xirrus Snap-on Cover and Rain/dust protective bag.
Data Cables
The RDK includes the data cables that are necessary to get the Array up and running.
Ruggedized Carrying Cases
Two hard-sided wheeled carrying cases are included. One safely transports the Array with snap-on cover, the power supply, cables and accessories. The other case securely carries the tripod.
Deployability:
Enterprise Class Wireless in the Field.
Disasters require an immediate response to save lives and property. The Cambium Network Xirrus Rapid Deployment Wireless Array Kit (RDK) is designed to quickly and simply provide a robust connectivity solution, supporting voice, video and data access to many users over a large area, without the complexity of deploying multiple APs, antennas, controllers, etc. The RDK delivers out-of-the-box capability for deploying a fully functional wireless network.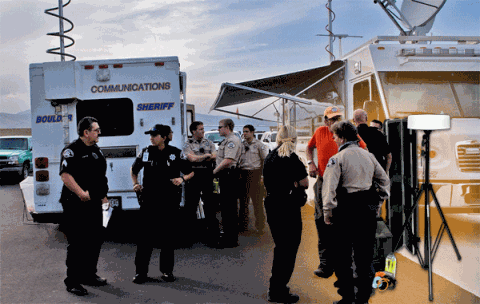 The RDK enables fast and easy deployment of Wi-Fi service that can support hundreds of users with a single, pre-configured device. The RDK provides a complete, portable wireless solution with everything needed to create a Wi-Fi network in two rugged cases. It is easily deployed indoors or outdoors for temporary situations requiring wireless access.  All that is required is an AC power source and a Wi-Fi network, and it can be ready for use in less than 5 minutes.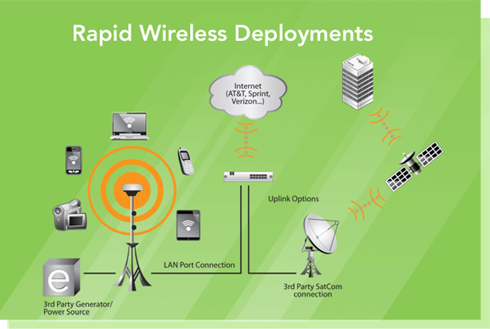 Key Features of the RDK's deployability include:
Man Portable – The RDK solution comes in two portable ruggedized cases allowing for easy transport and physical setup.
Integrated design – The Cambium Network Xirrus Wireless Array integrates radio, controller, security, and AAA functions into a single device, significantly reducing the number of components that must be deployed for an operational Wi-Fi network
< 5-minute deployment – A pre-configured RDK can be operational in less than 5 minutes.
Uplink – The RDK connects directly via Ethernet to a modem, router or satellite uplink.
Mobility – The RDK can be mounted on a tripod or pole mounted on a fixed or mobile location (trucker/humvee), allowing great flexibility and rapid relocation of the system.
Specifications:


Specifications
XK-4000-RAPID-CASE / XK-6000-RAPID-CASE
General Specifications
Compatible Cambium Network Xirrus Wireless Arrays (purchased separately)
XR-4000 and XR-6000 Series
Typical outdoor range (unobstructed)
750 - 1000+ ft
Typical indoor range (varies with construction material)
150 – 200+ ft
Array mounting height
10 ft above ground
Power Requirements
XR-44x0: 33-38W via Cambium Network Xirrus PoE injector
XR-44x0: 45-50W via Cambium Network Xirrus PoE injector
(injectors sold separately)
Kit Components
Rain/dust resistant cover bag
Included
Ruggedized Tripod with Array mount kit
1 (10 ft)
Cat 5E Cables
2 (100ft & 14ft)
Serial Console Cable and DB-9/USB Adapter
Included
Ruggedized Carrying Carrying Cases
1 Tripod carrying case
1 Gear carrying case
Quick Start Guide
Included
Pricing Notes:
Pricing and product availability subject to change without notice.
Cambium Networks Products
Rapid Deployment Kit Accessories
Rapid Deployment Kit cases, cables, and tripod for XR-4000 Arrays
#XK-4000-RAPID-CASE
Our Price: $3,000.00
Rapid Deployment tripod and carrying case for XR-4000/2000/1000
#XK-4000-RDK-TRIPOD
Our Price: $800.00
Rapid Deployment tripod and carrying case for XR-6000/7000
#XK-6000-RDK-TRIPOD
Our Price: $800.00
Rapid Depolyment kit for XR-4000, XR-2000, XD4 and XD2 series. Include ruggedized carying case for the access point and accessories (Tripod and AP not included)
#XK-4000-RDK-GEAR-CASE
Our Price: $2,200.00
Site survey tripod with rugged carrying case
#XK-SURVEY-TRIPOD
Our Price: $800.00