Cambium Networks cnPilot e430H Indoor

802.11ac Wave 2, Indoor Wall Plate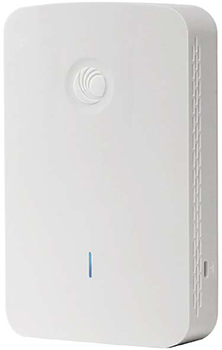 Cambium Networks Products
cnPilot Enterprise Indoor Wi-Fi
cnPilot E430H Indoor (FCC) 802.11ac wave 2, 2x2, Wall plate WLAN AP with single-gang wall bracket
#PL-E430H00A-US
Our Price: $378.78
Click here to jump to more pricing!
Overview:
The Cambium Networks cnPilot™ e430H enterprise class indoor wall plate access point supporting 802.11ac Wave 2 standards based beamforming, is perfect for hotels and resorts, multi-dwelling units (MDUs) or just about any place indoor that needs a wall mounted AP with multiple Gig E portsto drive indoor Wi-Fi and wired port network access managed via portals.
The cnPilot e430 Enterprise class Indoor Wall Plate access point supporting 802.11ac Wave 2 standards based beamforming, is perfect for hotels and resorts (Hospitality) and multi-dwelling units (MDUs).
The cnPilot e430H is a wall plate access point featuring a discreet and sleek design.
As a microcell wireless access point, the e430H will look great mounted on the wall in a hotel, dormitory room, long term care, hospital patient room or multi-dwelling unit.
The e430H Solution Architecture View: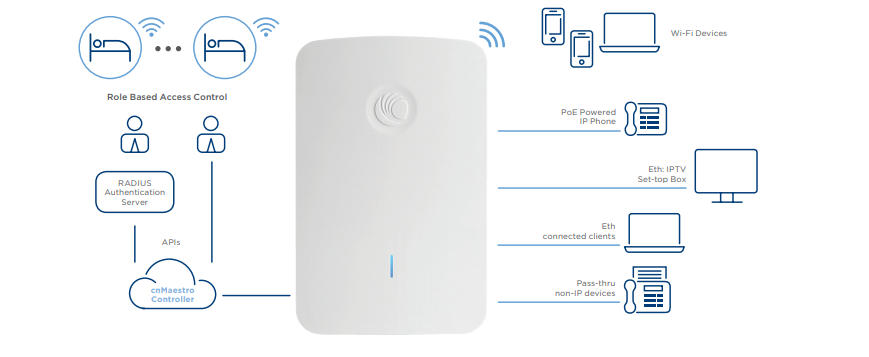 Features:
Controller Managed + Autonomous
Managed by Cambium Networks' cnMaestro™ cloud controller or On-premises controller, the cnPilot e430H management includes:
Zero touch onboarding
Inventory tracking
Monitoring
Configuration
Dashboard views with Alarms
Mass upgrade
Troubleshooting
Wireless and Wired port splash page guest portal
Controller-Less Roaming. Powerful Simplicity
TheThe e430H supports network wide seamless roaming for up to 2,048 clients. Host the hotspot portal on the AP for controller-less simplicity, or on cnMaestro for a powerful network wide portal.
Monetize: Vouchers. Social Login
Monetize your Wi-Fi service: cnMaestro's guest access feature supports splash page hosting, social login and payment gateway for wired and wireless clients. Built-in power packed features available right on the controller. These features along with the ability to create time, rate and volume limited traffic profiles along with vouchers for temporary guest access makes the e430H ideal for hotels, coffee shops, campgrounds, and office guest Wi-Fi.
Service Aware WLANs. Better User Experience.
Nothing is more frustrating than connecting to an AP, but not getting to the internet because the WAN link is down. When connection to a critical resource such as an external Gateway or AAA is down, the e430H monitors the uplink Gigabit interface for network outage. If an outage is detected, the impacted WLANs are disabled enabling client devices to select a neighboring AP.
Wi-Fi Mesh. Flexibility.
Meshing is supported across e430Hs as well as with any other indoor or outdoor Cambium Networks AP Enterprise AP, for a convenient way to expand Wi-Fi coverage without laying out cabling.
Coverage, Capacity. Speed.
The e430H packs strong transmit power and the flexible controls needed to control transmit power for high density deployments. Throughput management via airtime fairness, increased performance from autoRF, and higher client device speeds from band steering ensure your e430H network can adapt to the dynamics of ever changing client profiles.
High Density, Highly Available
A capacity of 256 max concurrent client associations, and 16 SSIDs, along with dual on-board Active/Standby memory banks ensure the e430H combines high density with high availability.
Low Total Cost of Operations (TCO) License Free Option
All cnPilot access points offer total management flexibility. The e430H can be managed as a standalone access point, from an on-premises cnMaestro controller, or a cloud accessed cnMaestro account. cnPIlot access points even support AutoPilot, allowing one access point to become a controller for a small network with all the advantages of a controller and none of the effort, time or cost.
Accessorize
The e430H package comes with a single-gang wall mount bracket. Optional accessories also include dual gang wall bracket or a desktop stand for small room table top retail outlets or dorm rooms installs
Warranty
Limited Lifetime Warranty(5 years)
e430H –Radio unit and Accessories (optional)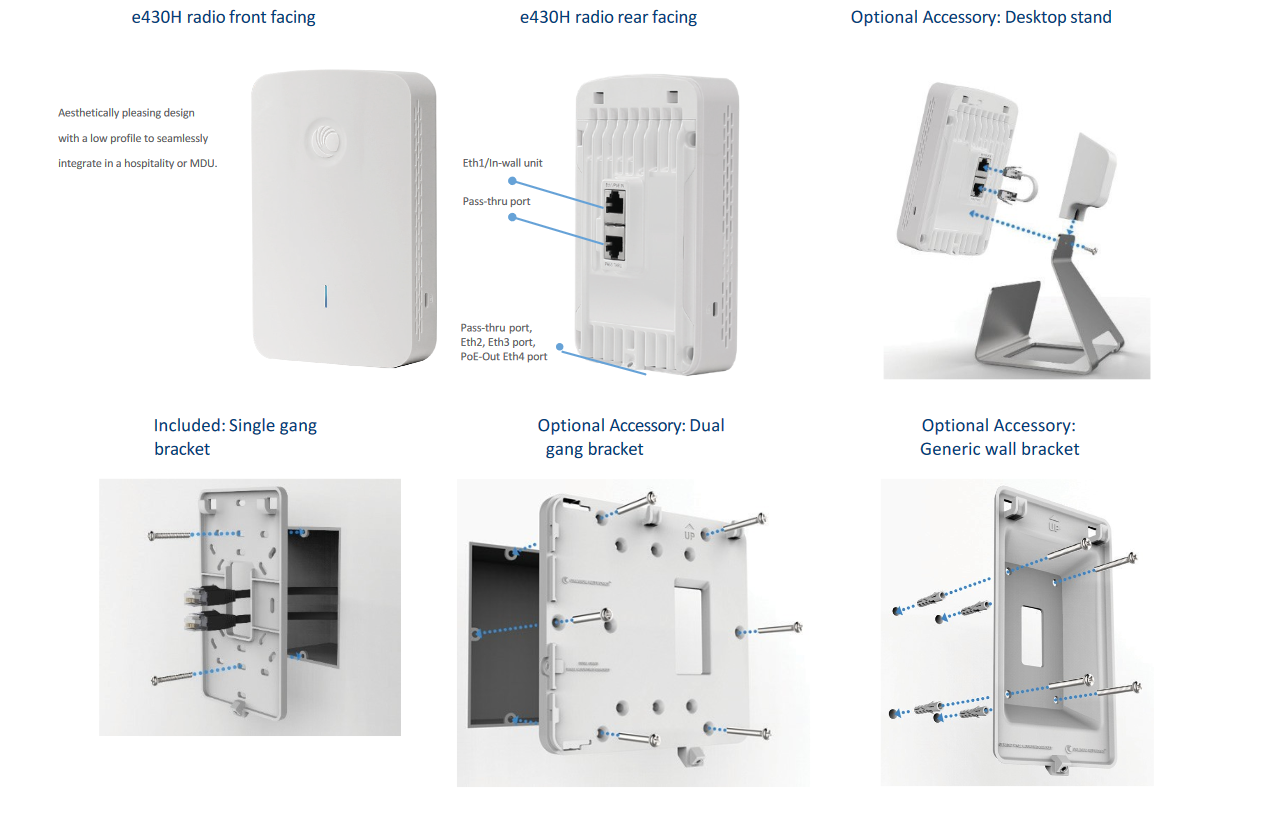 The e430H is designed to be powered by an external PoE injector. Alternatively, it may be powered by an external 48V/1A DC adaptor (sold separately). Other optional accessories are available for separate purchase
Specifications:
cnPilot e430H Specifications
Access Point Specifications
Standards
IEEE 802.11a/b/g/n/ac Wave2
IEEE 802.11d/e/h/i/k/r/u/v/w
Modulation: BPSK, QPSK, CCK, 16/64/256-QAM
Radio modes : DSSS, OFDM
Frequency Bands
2.400 to 2.2484 GHz
5.150 to 5.250 GHz
5.250 to 5.350 GHz
5.470 to 5.725 GHz
5.725 to 5.850 GHz
MIMO, Streams
2x2:2 MU-MIMO
Power Supply
802.3af PoE Injector, or PoE switch. 48V DC.
802.3at or PoE+ if using PoE-Out
Beamforming
Supported
Dimensions
14.7 x 9.4 x 3.4 cm (5.7 x 3.7 x 1.3 Inch)
Channel Width
20MHz, 40MHz, 80MHz
Weight
390 g (0.86 lb)
Concurrent Clients
256
Operating Temperature
0°C to +45°C (+32°F to +113°F)
SSIDs
16
Operating Humidity
5% to 95% non-condensing
Transmit Power
2.4GHz : 23dBm
5GHz : 21dBm
Power Consumed
9W (typical)
25W (max, with PoE-out)
Antenna Gain
2.4GHz : 3.5dBi
5GHz : 4.9dBi
LED
Tri-color software controlled LED
Max Data Rate
2.4GHz : 400Mbps
5GHz : 867Mbps
Secure Mounting
Kensington Key Slot
Antenna
Omnidirectional, integrated
MTBF
1,025,801 hrs at 50C, 2,828,686 hrs at 25C
Bluetooth
Bluetooth 4 BLE Radio, 3.3dBi antenna
Ethernet Ports
Four auto-sensing MDIX Gigabit Ethernet (10/100/1000 Mbps). One pass-through Port.
Reset Button
Supported
Radio Features
Maximum ratio combining (MRC)
Cyclic delay/shift diversity (CDD/CSD)
Space-time blocking coding (STBC)
Low-density parity check (LDPC)
Packet Aggregation: A-MPDU, A-MSDU
Certifications
FCC, CE, IC, UL, WEEE/RoHS compliance
Wi-Fi Alliance
Wi-Fi certified a,b,g,n, ac
WPA2 – Enterprise, Personal
WMM
Mounting Options
In wall single-gang bracket included.
Accessories available: dual gang bracket, on-wall bracket, desktop stand.
Wi-Fi Features
Management Modes
cnMaestro cloud managed
cnMaestro on-premises VM controller managed
Autopilot (AP as controller)
Standalone with AP GUI (http/https), CLI (telnet/ssh)
Wireless Security
WPA-TKIP, WPA2-AES, 802.11i
WPA-PSK, WPA2-PSK, WPA2-Enterprise
802.1x Authentication with various EAP types (EAP-TLS, EAP-TTLS/MSCHAPv2, PEAPv0/EAPMSCHAPv2, PEAPv1/EAP-GTC, EAP-SIM, EAPAKA, EAP-AKA', EAP-FAST
Protected Management Frames (802.11w)
RF Management
AutoRF automatically manages channel and power
Dynamic SSID Service
By time/date, by monitored host.
Guest Access Captive Portal
cnMaestro Controller Portal.
Integrates with 3rd party Guest Access Portals.
Built-in Portal on AP.
LDAP & RADIUS authentication.
Walled Garden with DNS whitelist.
Wireless and Wired Clients supported.
MAC Authentication
On-AP MAC filtering list.
On-Controller MAC filtering list.
RADIUS MAC Authentication.
MAC Authentication fallback to Captive Portal
Rate Limiting
Per-client, Per-WLAN static and dynamic rate limiting
Access Control Lists
Layer-2, Layer-3, DNS
Client Isolation
On AP, Network-wide.
3G/4G/LTE Offload
Passpoint (Hotspot 2.0)
Fast Roaming
802.11r, Opportunistic Key Caching, Enhanced Roaming
DHCP Relay
Supported, with Option-82 customization
Airtime
Airtime Fairness, Band Steering, Band Balancing
NMS Monitoring
SNMP v1, v2c, v3
AAA Support
RADIUS Authentication, Accounting, Dynamic Authorization (CoA, DM). Server failover, load-balancing
Client APIs
Client Presence/Location API DNS, NAT and TCP Connecting Logging
QoS
802.11e/WMM QoS. DSCP/ToS mapping.
Time Synchronization
Auto (from controller), NTP
Ethernet (L2) Services
802.1p/802.q, RADIUS assigned VLAN, VLAN per SSID, VLAN pooling. LLDP. IGMP Snooping (V1/V2/V3).
Troubleshooting Tools
Packet Capture, Spectrum Analyzer, Ping, Traceroute, Syslogs
Mesh
WDS Mesh with Single and Multiple radio hops.
Traffic Tunnels
L2TP, L2oGRE, PPPoE
Network Services
NAT, DHCP Server
Antenna Patterns:
Pricing Notes:
Pricing and product availability subject to change without notice.
Cambium Networks Products
cnPilot Enterprise Indoor Wi-Fi
cnPilot E430H Indoor (FCC) 802.11ac wave 2, 2x2, Wall plate WLAN AP with single-gang wall bracket
#PL-E430H00A-US
Our Price: $378.78
cnPilot Extended Warranty
cnPilot E4XX Extended Warranty, 1 Additional Year
#EW-E1PLE4XX-WW
Our Price: $6.50
cnPilot E4XX Extended Warranty, 2 Additional Years
#EW-E2PLE4XX-WW
Our Price: $11.75
cnPilot E4XX Extended Warranty, 3 Additional Years
#EW-E3PLE4XX-WW
Our Price: $15.50
cnPilot E4XX Extended Warranty, 4 Additional Years
#EW-E4PLE4XX-WW
Our Price: $17.75
cnPilot E4XX Limited Lifetime Warranty
#EW-LLPLE4XX-WW
Our Price: $23.00
cnPilot Accessories
56VDC, 15W Gigabit PoE Injector for e410/e425H/e430H/e505 APs
#N000900L017A
Our Price: $18.00
Cable, UL power supply cord set, 720mm, U.S. plug for N000900L017A and N000000L034A PoE injectors
#N000900L031A
Our Price: $5.40