Cambium Networks cnPilot E700 Enterprise Outdoor

Gigabit IP67, 802.11ac wave 2, 8 dBi Outdoor Access Point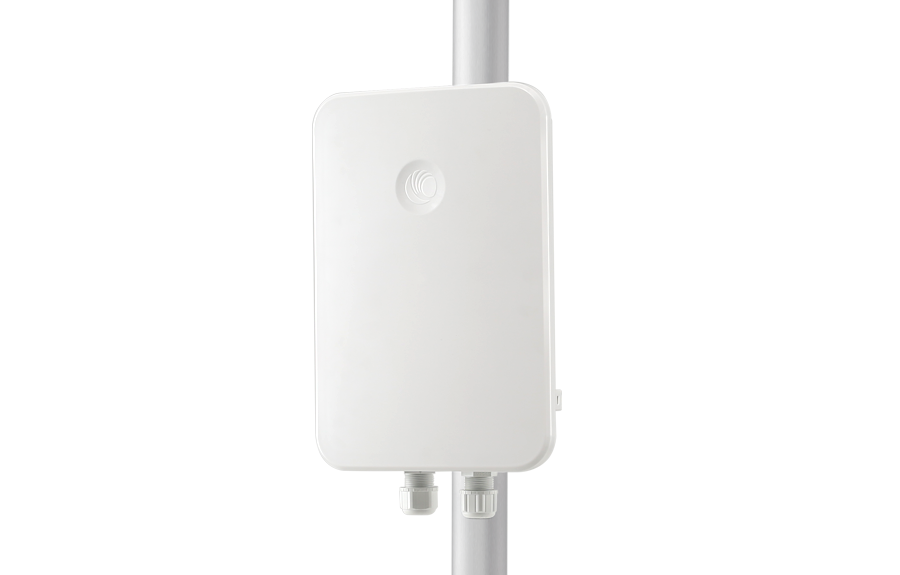 Cambium Networks Products
cnPilot Enterprise Outdoor Wi-Fi
cnPilot e700 Outdoor (FCC) 802.11ac wave 2, 2x2/4x4, AP
#PL-E700X00A-US
Our Price: $963.00
Click here to jump to more pricing!
Overview: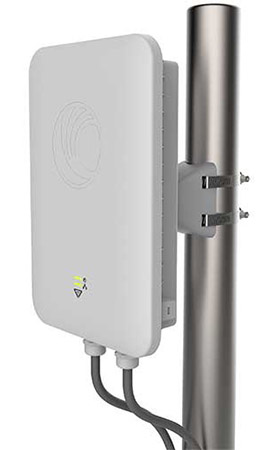 cnPilot e700 Enterprise Outdoor APs feature Gigabit throughput, 802.11ac Wave 2 standard with beam forming for superior outdoor Wi-Fi for enterprise campus, hospitality, higher education and public Wi-Fi applications.
Designed for the outdoors
802.11ac, 256 users, 16 SSIDs
Omni coverage
UV rated IP-67 enclosure
Max Operating Temp range: -40°C ~ +65°C
Operating humidity : 10% to 95%
Electrical heater for cold start
Ruggedized - ESD protection, Industrial grade components
Packaged with wall mount brackets
Special LTE coexistence filters
315 x 215 x 66 mm | 3.174 lbs (1700 gms)
cnMaestro - WiFi Controller
Guest Access: Custom Splash pages, Vouchers, Social login
Zero-touch Provisioning
Inventory tracking
Map location
Monitoring: key Stats, Alarms
Mass (bulk) upgrade
Integrated troubleshooting: WiFi APs, Clients & Cambium SMs
Available in Cloud or as On-premises (NOC) Virtual controller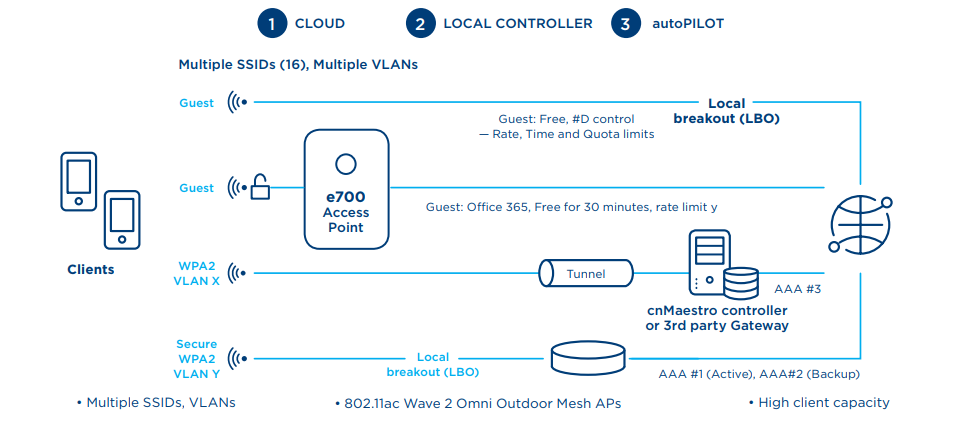 Features:
Operational superiority
IP67 weather resilient Outdoor Access Point (AP) with 512 max concurrent client associations, 16 SSIDs, WPA-2 encryption, Meshing, Dynamic VLANs, DFS channels, Access control lists (ACL), zero touch provisioning and more – the 802.11ac wave2 powered e700 is perfect for today's demanding high density outdoor Wi-Fi networks.
High performance Wi-Fi network
All cnPilot's Enterprise Access Points (APs), support features like controllerless roaming, dynamic channel selection, automatic transmit power control, band steering, and more – essential features for easy Wi-Fi operations.
Mesh
Rapidly setup multi-hop mesh networks either dedicating one radio (e.g.: 5 GHz) for mesh backhaul, or using both bands for simultaneous client and mesh access
Wireless Backhaul Integration
Roll out Wi-Fi networks rapidly with Cambium's wireless backhaul powered from the aux PoE Out port on the e700 eliminating the need for a second power line. The aux PoE Out port can also power an 802.3af camera when security monitoring is needed near the hotspot
Resilience
Dual on-board Active/Standby memory banks ensure higher availability. The e700 can store two versions of the software and if needed fall back to a working operational software, reducing the likelihood of site visits and increasing network up-time
Specifications:
cnPilot E700 Specifications
Access Point Specifications
Frequency Bands
2.4 GHz: 2.4 – 2.4835 GHz Channels 1 – 13 (ETSI/CE)
Channels 1 – 11 (US) 5 GHz: 5.15 – 5.85 GHz
SSID Security
WPA-2 (802.11i): WPA2-Enterprise (802.1x/EAP) & WPA2-Preshared-keys, Open
Max SSIDs
16
Max Concurrent Clients
512
Max Data Rates
2.4GHz: 400Mbps, 5GHz: 1733Mbps
Ethernet Ports
Dual Gigabit Ethernet ports (2 x 10/100/1000Base-T)
Antenna
Integrated Omni
Antenna gain
8 dBi (2.4 GHz and 5 GHz)
Power Consumed
Typical 18W. Max 24.6W
Dimensions
315 x 215 x 66 mm (without bracket)
Weight
3.174 lbs (1700 gms) without bracket
Wi-Fi Features
Controller modes

Autonomous Controller-less operations (E.g.: roaming)
Cloud Managed
On-premise virtualized controller

Secure WLAN

WPA-TKIP, WPA2 AES, 802.1x 802.11w (Protected Management Frames)

Hotspot 2.0/Passpoint
Passpoint supported
Captive Portal

cnMaestro Controller
Stand-alone AP based
Redirection to external RADIUS Server
Server DNS logging

Authentication

RADIUS based 802.1x including EAP-SIM/AKA, EAP-PEAP, EAP-TTLS, and EAP-TLS
MAC authentication (local database or External RADIUS server)

Scheduled SSID
Turn SSID ON/OFF on a daily/weekly/time of day basis
Guest Access
Yes. With Active Directory Integration

Vouchers
Rate limiting
Splash page creation on cnMaestro

cnMaestro Wi-Fi Controller
Common Manager
Single pane of glass: Controller for Wi-Fi and network manager for ePMP and PMP wireless backhaul products
On-Boarding
Secure zero touch fast on-boarding
Provisioning
Easy zero touch virtual network provisioning Provision before install (pre-provision)
Device Inventory
Inventory tracking
Trouble Shooting
ezDetect: Advanced end to end troubleshooting of WiFi Access Point and Client devices on one single screen. Extends to Wireless backhaul (PTP), Wi-Fi Hotspot & Clients . Includes Packet capture and Wireless Analyzer functions
Configuration
GUI based configuration or template based configuration options
2D Gain Patterns: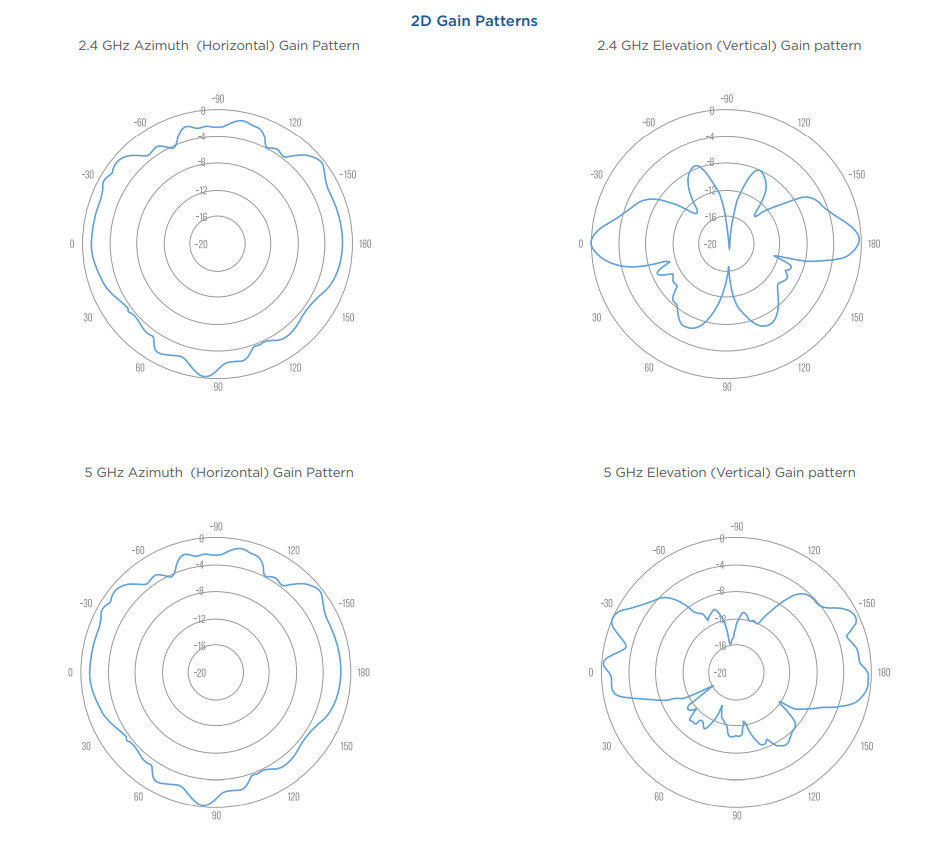 Pricing Notes:
Pricing and product availability subject to change without notice.
Cambium Networks Products
cnPilot Enterprise Outdoor Wi-Fi
cnPilot e700 Outdoor (FCC) 802.11ac wave 2, 2x2/4x4, AP
#PL-E700X00A-US
Our Price: $963.00
cnPilot Extended Warranty
cnPilot E7XX Extended Warranty, 1 Additional Year
#EW-E1PLE7XX-WW
Our Price: $19.50
cnPilot E7XX Extended Warranty, 2 Additional Years
#EW-E2PLE7XX-WW
Our Price: $34.75
cnPilot E7XX Extended Warranty, 3 Additional Years
#EW-E3PLE7XX-WW
Our Price: $45.75
cnPilot E7XX Extended Warranty, 4 Additional Years
#EW-E4PLE7XX-WW
Our Price: $52.00
cnPilot E7XX Limited Lifetime Warranty
#EW-LLPLE7XX-WW
Our Price: $66.75
cnPilot Accessories
Cable, UL power supply cord set, 720mm, U.S. plug for N000900L017A and N000000L034A PoE injectors
#N000900L031A
Our Price: $5.40