Cambium Network XV2-22H Wi-Fi 6 Wall Plate Access Point

802.11ax, Dual-radio, 2x2, with Multi-Function Ethernet Ports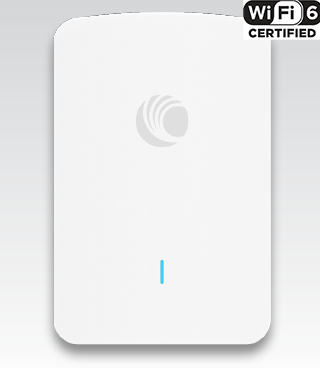 Cambium Networks Products
XV2-22H Wi-Fi 6 Wallplate AP
XV2-22H Wall Plate Dual radio WiFi 6 AP, 2x2, 3 x GbE, 48V PoE out, BLE/Zigbee
#XV2-22H0A00
Our Price: $438.84
Click here to jump to more pricing!
Overview:
XV2-22H Wi-Fi 6 Wall Plate Access Point At a Glance
The XV2-22H Indoor wall and desk mount 2x2 Wi-Fi 6 AP offers 2.97 Gbps of bandwidth and an integrated switch. Ideal for hospitality, MDU, education and small/medium business applications.
Cambium Networks Wi-Fi 6 wall plate access points (AP) put personal Wi-Fi in the room where people and devices connect. Designed for discreet installation on a flat wall surface or over a wiring box.
Wallplate 802.11ax, 2x2
3 x GbE Ethernet, one with PoE out
RJ45 electrical pass-through ports
BLE/Zigbee/Thread/Matter
Limited lifetime warranty
Cloud-Managed Access
cnMaestro X is a simple, yet sophisticated cloud-first, next generation network management solution for Cambium Networks wireless and wired solutions. cnMaestro X offers elastic scalability and singlepane-of-glass management to deliver secure, end-to-end network and wireless lifecycle management with zero-touch provisioning, monitoring and troubleshooting capabilities. It simplifies operations and ongoing maintenance.
Single console for your entire Cambium network – Wi-Fi, Switching, Fixed Wireless
Simple and easy-to-navigate user interface for fast time-to-productivity
Powerful troubleshooting tools for drill down and rapid problem resolution
Flexible integration via APIs and Webhooks for third party extensibility and customization
Includes Cambium Care Pro software support with 24x7 L2 engineer access and all software updates for cnMaestro and managed devices
Do-Not-Disturb Hotel Design
Hotel guests connect to Wi-Fi before turning on the TV. Wi-Fi is a must-have to stay connected with coworkers, family and social media. With the XV2-22H wall plate AP, the guest will be delighted with a perfect connection to all their devices. Customize the cloud-managed guest access with a fully configurable cloud portal with templates, point and click interface, or HTML CSS
Designed for fast installation
XV2-22H install quickly over a standard wiring box, or to other boxes and surfaces using the optional mounting adapters. XV2-22H has three gigabit Ethernet ports. All ports support 802.1Q VLANs, IGMP, switched virtual interface layer 3 routing, DHCP, and firewall. Deliver 10 watts of operating power to an external device such as a VoIP phone, an in-room IoT hub or even another AP. VLAN and IP segmentation allows secure connections to a TV set-top box, laptop, printer, or any networked device.
IoT Ready
Integrated 802.15.4 multi-functional radio supports either BLE, Zigbee, or Thread. Easily integrate with popular Zigbee based door access control systems or temperature control or enable BLE for close point of presence location services
Views: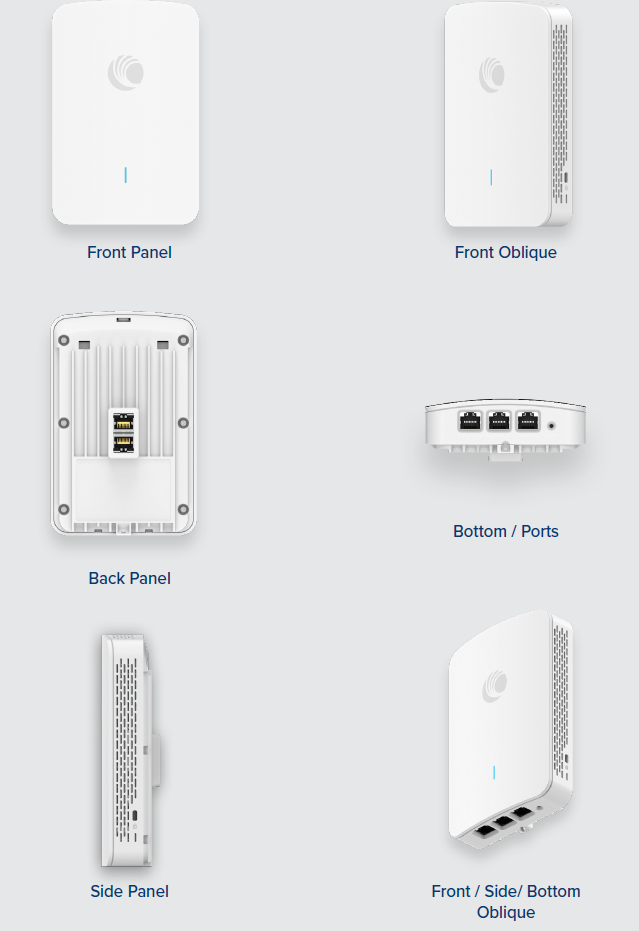 Antenna Patterns: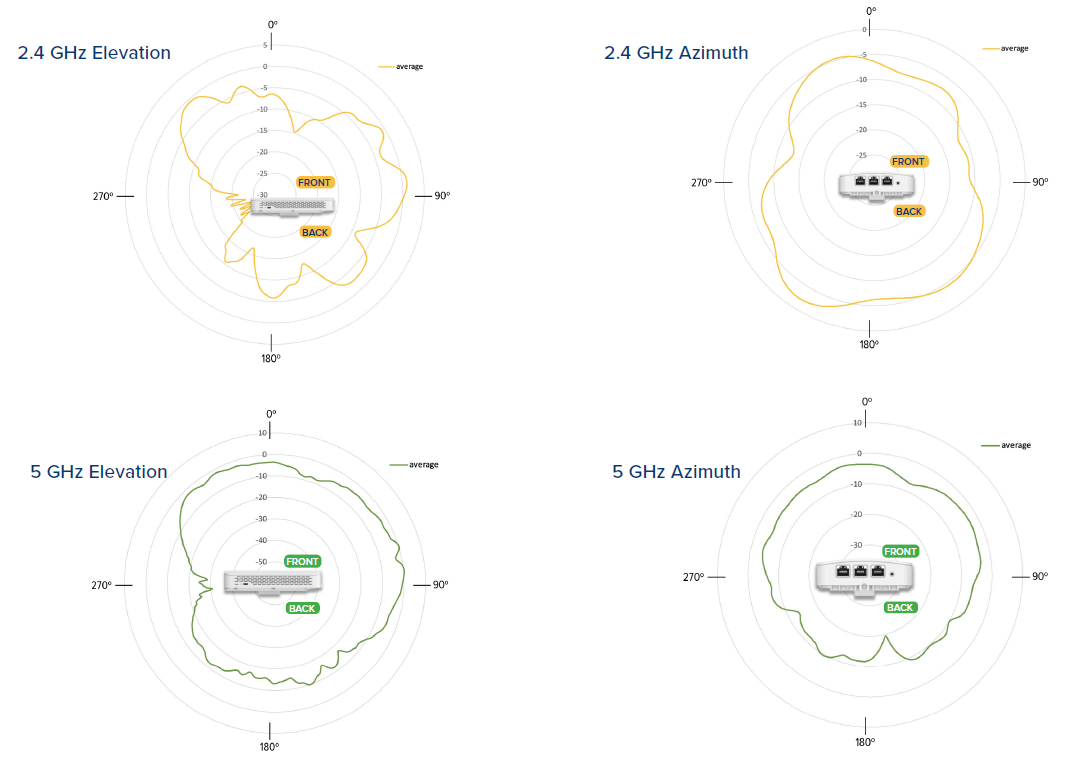 Specifications:
ACCESS POINT SPECIFICATIONS
Radios
1 x 5 GHz radio (802.11ax Wi-Fi 6), 2x2:2
1 x 2.4 GHz 802.11ax Wi-Fi 6), 2x2:2
1 x 802.15.4 or 1 x 802.15.1 IoT transceiver,
multi-protocol
SU-MIMO / MU-MIMO: 2 streams
Wi-Fi
802.11 ax Wi-Fi 6
SSID Security
WPA3-SAE, WPA3-Enterprise, WPA2 (802.11i), WPA2 AES, WPA2 Enterprise (802.1x/EAP), WPA PSK, Open
Max PHY Rate
5 GHz 2402 Mbps
2.4 GHz 574 Mbps
Ethernet
1 x GE WAN
2 x GE LAN
PoE out (up to 10W)
USB Ports
No
Antenna
Internal omni-directional
2.4 GHz: 4.47 dBi 5 GHz: 5.56 dBi
IoT Antenna Gain: 5.18 dBi
Max EIRP
5 GHz: 28 dBm
2.4 GHz: 30 dBm
WLAN
16 WLAN profiles per radio
128 clients per radio
MTBF
511k hours at 25ºC; 121.79k hours 45ºC
Power
802.3af or 802.3at powered device
Typical load, no power out: 10W
Typical load, with 10W power out: 20W
Dimensions
160 mm x 105 mm x 32 mm
(6.3 in x 4.1 in x 1.26 in)
Weight
417 g (0.92 lb)
Security
Kensington lock slot, secure bracket
LEDs
Tri-color status LEDs
Ambient Operating Temperature
0ºC to 40ºC (32ºF to 104ºF)
Storage Temperature
-40ºC to 70ºC (-40ºF to 158ºF)
Humidity
95% RH non-condensing
Certifications
802.11u, HotSpot 2.0, Passpoint 3.0, 802.11 a/b/e/g/i/k/n/r/u/v/w/ac/ax, PP2.0 FCC, IC, ETSI, CE, EN 60601-1-2, IEC60950
Network Specifications
| | |
| --- | --- |
| Authentication Encryption | 802.1x EAP-SIM/AKA/AKA'/FAST, EAP-PEAP, EAP-TTLS, EAP-TLS/MSCHAPv2, PEAPv0/ PEAPv1 MAC authentication to local database (on AP, on Controller) or external RADIUS. MAC auth fallback to guest portal |
| Scheduled WLAN | On/off by day, week, time of day |
| APIs | RESTful management and statistics API Presence location API Webhooks |
| QoS | 802.11e/WMM QoS. DSCP/ToS mapping |
| VLAN | 802.11Q, max 4096 |
| Fast Roaming | 802.11r, OKC, cnMaestro assisted roam |
| Mesh | Multi-hop, either band |
| Channel Selection | Auto RF: Manual, or automatic |
| Sticky Client | Enhanced roaming with thresholds |
| | |
| --- | --- |
| Network | TNAT, NAT logging firewall, DOS protection, L2/L3/DNS ACL, DHCP server, DHCP Relay option 82 LLDP, IGMP v1, v2 VLAN Pooling, RADIUS attribute VID VLAN per SSID, per user Integrated WIDS (wireless intrusion detection) |
| Band Steer Load Balance | Yes |
| Tunnel | L2TPv2, L2GRE, PPPoE |
| Network and RF Management Tools | Out-of-band RF spectrum analysis, RF monitor with channel/noise/interference, wired and wireless remote packet capture, ZapD performance tool, rogue AP detection |
| IP | IPv4, IPv6 |
Management
| | |
| --- | --- |
| Interfaces | HTTP / HTTPS web interface, SSH, Telnet SNMP V1, V2, V3 Syslog, SNMP traps, NTP |
| Deployment | cnMaestro Cloud, cnMaestro on-premises, XMS-Cloud, Standalone AP |
| Services | Monetized guest portal with design tools |
| Hotspot 2.0 | 802.11u, HotSpot 2.0 |
| Accounting | RADIUS accounting, load balancing AAA servers, Dynamic Authorization COA, DM |
| Service Availabilty | Critical network resource monitor with SSID shutdown |
Captive Portal
Portal features hosted on cnMaestro: Design templates, customization tools supports 3rd party external portal RADIUS/LDAP/Click Through authentication Active Directory, Google, Facebook, Office 365, OAuth 2.0 Data Rate/Throughput limits, Time duration
Portal features hosted on the AP: supports 3rd party external portal RADIUS/LDAP/Click Through authentication Data Rate/Throughput limits, Time duration
Pricing Notes:
Pricing and product availability subject to change without notice.
Cambium Networks Products
XV2-22H Wi-Fi 6 Wallplate AP
XV2-22H Wall Plate Dual radio WiFi 6 AP, 2x2, 3 x GbE, 48V PoE out, BLE/Zigbee
#XV2-22H0A00
Our Price: $438.84