Cambium Networks cnPilot e510 Outdoor Omni

Gigabit IP67 802.11ac wave 2 Outdoor Access Point
Cambium Networks Products
cnPilot Enterprise Indoor Wi-Fi
cnPilot e510 Outdoor (IC, Type A cord) 802.11ac Wave 2, 2x2, 8 dBi, WLAN AP, PoE Injector
#PL-E510X00A-US
Our Price: $616.32
Click here to jump to more pricing!
Overview: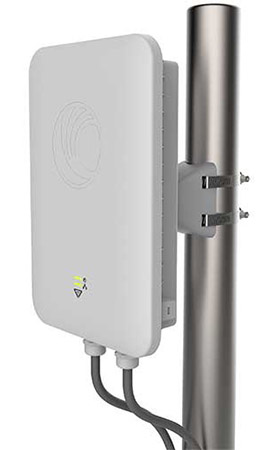 The e500 APs feature two Gigabit Ethernet ports and an AUX port capability, enabling outdoor deployment anywhere with additional power available for another backhaul radio, security camera, or other additional equipment.
Enterprise grade 802.11 Wi-Fi access in outdoor high density networks. Ideal for 360 degree coverage in Public Wi-Fi, Hospitality, Education campus, Industrial and Enterprise.
High Performance, Outdoor AP
Quad core CPU
802.11ac wave2, multi-user MIMO, beam steering, VHT rates, airtime fairness
360 degree antenna coverage
UV rated IP67 enclosure
Shock and Vibration certified
Operating temp: -40C - +65C
Cold start heater
Extended ESD and surge protection
Industrial grade components
LTE filter for unimpeded operation
Light weight – less than 1100g
cnMaestro Single Cloud Dashboard
Resilient Cloud Controller for broadband, Ethernet, Wi-Fi
Services delivery platform
Managed service provider flows
Private label branding
Help desk troubleshooting tools
True Zero-touch provisioning and zero-touch network RF automation
Cloud delivered guest access portal with custom pages, vouchers, social login and paid services
Device inventory reports
Key metrics Dashboard
The cnPilot E500 Wi-Fi Network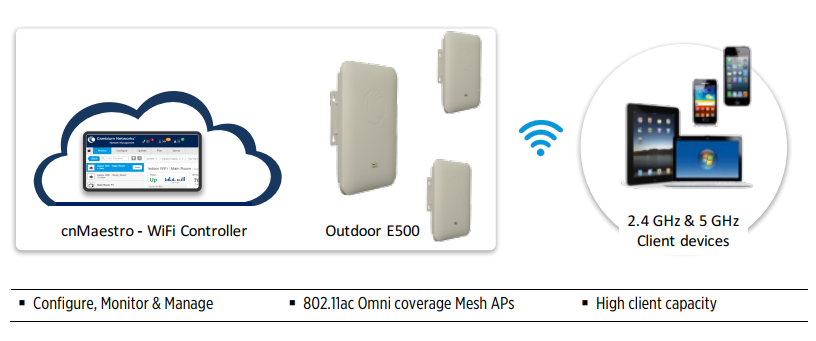 Features:
Enterprise Grade Wi-Fi
Part of the cnPilot family of Enterprise grade 802.11 access points, the e510 is RF aware and self-optimizing for the RF environment. Ideal for deploying Outdoor Wi-Fi as a public access service, or part of an extended enterprise network providing seamless roaming from indoor to outdoor without requiring controller interaction. Integrated troubleshooting tools provide remote access for packet capture, client statistics, operational and RF statistics, and RF scanning for interference, channel utilization, and noise floor scan
Enterprise Grade Mesh
E510 features multi-hop MESH that puts flexibility into the hands of the network admin. Select the band to use for MESH (either 2.4 GHz or 5 Ghz); and set whether clients can access the network on one or both bands. Auto-MESH discovers a Cambium MESH link with policy based secure access. Once adopted, cnMaestro provides the correct policy based provisioning rules for the access point.
Extended Enviroment Support
The e510 is shock and vibration certified when used with the rail mounting system . Ideal for industrial applications and manufacturing. Integrated cold start heater ensure operation in harsh environments
cnMaestro Single Pane of Glass
All Cambium Networks enterprise 802.11 and broadband point to point and point to multi-point access points are supported by the cnMaestro controller.
Specifications:
cnPilot e510 Specifications
Access Point Specifications
Max Phy Rate
2.4 GHz radio: 400 Mbps
5 GHz radio: 867 Mbps
Ethernet Ports
One IEEE Gigabit Ethernet auto sensing
Antenna
Integrated dual polarized, omni direction
8dBi (2.4GHz) 9dBi (5GHz)
Max EIRP
2.4 GHz: 32 dBm
5 GHz: 34.5 dBm
EIRP may be limited by individual country regulation
Power
802.3af or 802.3at Powered Device
Max 12.95w (802.3af)
Physical Environmental
IP67 rated housing
Wind Resistance 224 kph 320mm x 215mm x 65mm 1100g
Kensington lock slot
Two multi-color status LEDs
-40C - + 65C ambient op temp
-40C - + 70C storage temperature 95% RH non-condensing
Overvoltage protection, category 1
LTE Filter
LTE bands 38, 40
Certifications
WiFi Alliance 80211a/b/g/n/ac,
Passpoint 2.0
FCC, ETSI, CE, EN 60601-1-2, IEC60950,
EN50121-1 Railway EMC EN50121-4 Railway Immunity
IEC 61373 Railway Shock & Vibration
WLAN and Network Specifications
Controller modes
Controller-less standalone
AutoPilot heterogeneous network
Cloud managed cnMaestro
On-premises cnMaestro VM
WLAN
256 clients, 16 SSIDs
WPA-TKIP, WPA2 AES, 802.1x
802.11w PMF
WPA2 (802.11i), WPA2 Enterprise
(802.1x/EAP), WPA PSK, Open
Captive Portal
Hosted on cnMaestro Controller
On-AP hosted guest portal
Redirect to HTTP/RADIUS
Server DNS logging
Authentication
Hotspot 2.0/Passpoint 2.0
802.1x EAP-SIM/AKA, EAP-PEAP, EAP-TTLS, EAP-TLS
MAC authentication to local database or external RADIUS
Accounting
Yes. Supports RADIUS based accounting to multiple AAAs
Scheduled SSID
Turn SSID ON/OFF on a daily/weekly/time of day basis
Guest Access
Vouchers, Rate Limit, Splash page hosted on AP or cnMaestro
Client isolation per SSID, per network
Data Limit
Client rate limit per SSID
QoS
WMM
Fast Roaming
802.11r, OKC, Enhanced roaming
Mesh
Multi-hop, either band
Channel Selection
autoTune: Manual, or automatic
Selectable off-channel scan
Auto Tx Power
AutoRF: controller-less transmit power
Network
NAT, NAT logging firewall, DHCP server
L2, L3 or DNS based access control
VLAN Pooling, RADIUS attribute VID
VLAN per SSID per user
Band Street Load Balance
Yes
Tunnel
L2TP, L2oGRE, PPPoE
Tools
Remote Packet capture, Channel/noise/interference analyzer, auto logging, ZapD performance test tool, rogue AP detection
Services
NTP, Syslog, SNMP traps, DNS proxy, auto-off on WAN failure
API
RESTful management and statistics API
Presence location APIs
Pricing Notes:
Pricing and product availability subject to change without notice.
Cambium Networks Products
cnPilot Enterprise Indoor Wi-Fi
cnPilot e510 Outdoor (IC, Type A cord) 802.11ac Wave 2, 2x2, 8 dBi, WLAN AP, PoE Injector
#PL-E510X00A-US
Our Price: $616.32
cnPilot Extended Warranty
cnPilot E5XX Extended Warranty, 1 Additional Year
#EW-E1PLE5XX-WW
Our Price: $15.00
cnPilot E5XX Extended Warranty, 2 Additional Years
#EW-E2PLE5XX-WW
Our Price: $26.50
cnPilot E5XX Extended Warranty, 3 Additional Years
#EW-E3PLE5XX-WW
Our Price: $34.75
cnPilot E5XX Extended Warranty, 4 Additional Years
#EW-E4PLE5XX-WW
Our Price: $39.75
cnPilot E5XX Limited Lifetime Warranty
#EW-LLPLE5XX-WW
Our Price: $51.00
cnPilot Accessories
Cable, UL power supply cord set, 720mm, U.S. plug for N000900L017A and N000000L034A PoE injectors
#N000900L031A
Our Price: $5.40