Cambium Networks 60GHz cnWave v5000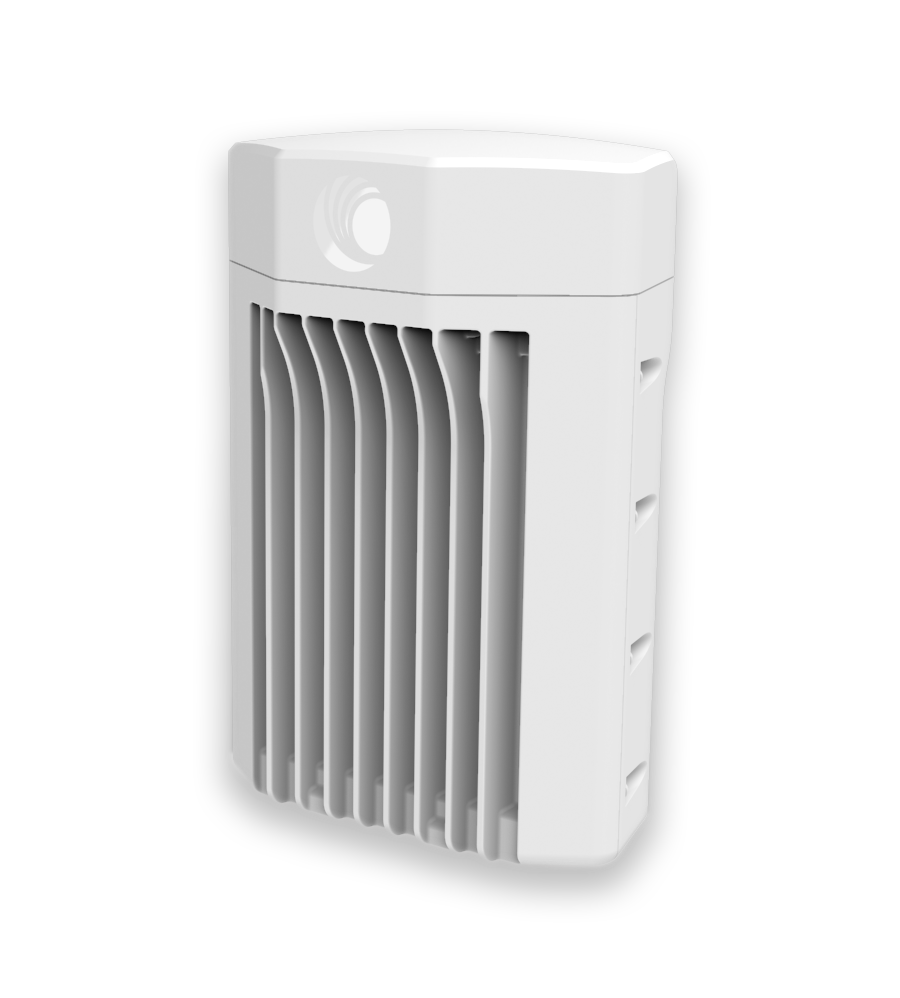 V5000 is featured with two sectors covering up to 280 degrees with beamforming. A single V5000 can connect up to 30 devices, which includes up to four distribution nodes. V5000 can be used for PTP, PMP and mesh configurations.
Cambium Networks Products
cnWave Radio
60 GHz cnWave v5000
60 GHz cnWave V5000 Client Node with US Cord
#C600500A004A-Promo
Get a Quote!
Overview:
Designed For High-speed and High-density Deployments
Cambium Networks' 60 GHz cnWave solution provides easy, fast and cost-effective wireless gigabit connectivity for edge access and/or high-capacity backhaul for edge access solutions at a significantly lower TCO than fiber infrastructure. Service providers and enterprises now have access to gigabit for business and residential connectivity, backhaul for Wi-Fi access or LTE/5G small cell. Certified for Facebook Terragraph, cnWave mesh solutions are highly efficient at handling high-density deployments in cities and suburban areas.
V5000 is featured with a 44.5 dBi high-gain antenna with beamforming. The client nodes can support up to 7.6 Gbps with channel bonding for both PMP and PTP configurations.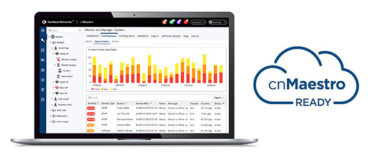 Cloud and On-Premise Management
60 GHz cnWave operates with Cambium Networks' cnMaestro management system. cnMaestro™ is a cloud-based or on-premises software platform for secure, end-to-end network control. cnMaestro wireless network manager simplifies device management by offering full network visibility and zero-touch provisioning. View and perform a full suite of wireless network management functions in real time. Optimize system availability, maximize throughput and meet emerging needs of business and residential customers.
Features: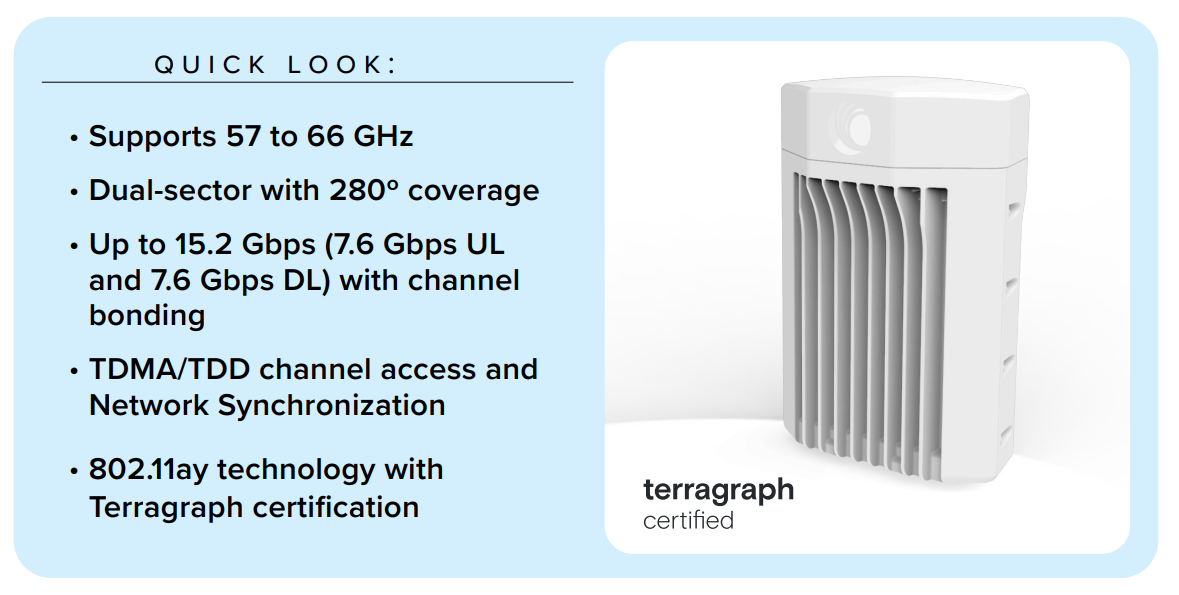 Specifications:
cnWave v5000
Spectrum

Performance

Frequency Range

57 to 66 GHz in a single SKU

Modulation & Coding Schemes

MCS-0 (BPSK) to MCS-12 (16-QAM)

Channel Width

2.16 GHz, 4.32 GHz*

Latency

< 1 ms

Carrier Bonding*

Up to 2 adjacent channels

Maximum EIRP

38 dBm

Mode of Operation

PMP or Mesh, PTP*

Antenna

Interface

Gain

22.5 dBi

Channel Access

TDMA/TDD

Type

Integrated

Ethernet Interface

1 x 100/1000/10G BaseT with PoE In,
1 x 100/1000 BaseT with 802.3at PoE Out,
1 x SFP+

Beamforming Scan Range

+/- 140º azimuth, +/- 20º elevation

Beam Width

12º

Ethernet

Protocol Supported

IPv4, IPv6

Powering

Network Management

cnMaestro, HTTP, HTTPS, SNMP v2c & v3

Type

Passive PoE (42-57V) without AUX PoE Out in use

MTU

4,000 bytes

Power Consumption

60 W with AUX PoE Out in use, 35 W without AUX PoE Out in use

VLAN*

802.1ad (QinQ), 802.1Q with 802.1p priority

Physical

QoS*

4 Level QoS, DSCP and VLAN Tag

Environmental

IP66/67

Security

Temperature

-40ºC to 60ºC (-40ºF to 140ºF)

Encryption

128-bit AES

Mean Time Between Failure

> 40 years

Firmware Security

Signed Firmware Images

Weight

less than 4 kg (8.8 lbs)

* Available in future release

Dimensions

W x H x D

280 mm x 185 mm x 102 mm

(11.0 in x 7.3 in x 4.0 in)

Wind Survival

200 km/h (124 mi/h)
Pricing Notes:
Pricing and product availability subject to change without notice.
Cambium Networks Products
cnWave Radio
60 GHz cnWave v5000
60 GHz cnWave V5000 Client Node with US Cord
#C600500A004A-Promo
Get a Quote!