Cambium Networks cnPilot R190V

Cloud Managed Home Router with ATA for ISPs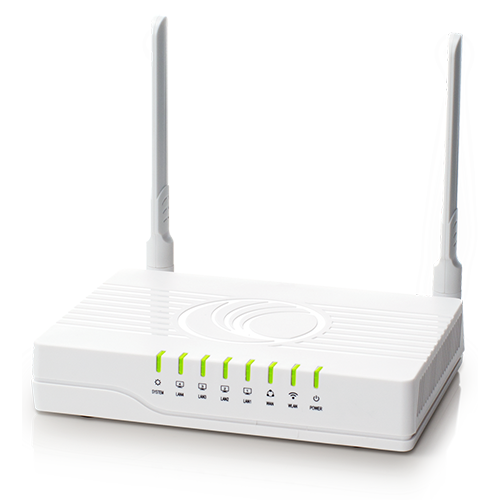 Sorry, this product is no longer available, please contact us for a replacement.
Click here to jump to more pricing!
Overview:
The IPV6 capable R190V is ideal for cost-conscious service providers seeking a standard, entry level home router with cutting edge cloud management and robust features. The R190V can be remotely configured, monitored, and upgraded, and offers in-home client insights that make troubleshooting a breeze – all reducing the ISP's need for site visits.
Simplifying in-home Wi-Fi
Cloud-controlled cnPilot routers simplify ISP roll out of indoor home Wi-Fi. The router incorporates 3 additional functions in one package: Wi-Fi, an ATA to connect telephone and fax, and PoE out for powering up Cambium's CPEs (subscriber modules).
Remote secure management via cnMaestro controller features monitoring, configuration management, and integrated troubleshooting across Wi-Fi, client devices and Cambium backhaul (when present), reducing the total cost of network ownership (TCO).
See the Cambium Wi-Fi Difference
Cloud or On-Premises management
Flexible architecture lets you manage the network the way you want.
Remote Configuration
Modules can be remotely configured, monitored, and upgraded.
Features:
Making the case - return on investment (ROI)
It's estimated that over 60% of customer complaint calls to service providers (SPs) for "poor internet service" result from unmanaged home routers, purchased and deployed by end customers themselves.
Service providers lose money servicing these complaints with no visibility to the indoor home router, with no improvement in customer satisfaction, high subscriber churn, or ability to recover lost revenue opportunities. The R190W gives service providers more options than ever, enabling them to:
Enhance customer satisfaction by offering standardized SP- validated and managed indoor home routers that connect users to the internet rapidly and efficiently.
Sell or lease the R190V as the ISP provided and managed home router. The ATA port enables ISPs to provide Voice-over-IP phone service, creating a new line of revenue for the ISPs
Reduce service call costs with client visibility via cnMaestro with the ezView tool. Track and manage customer inventory, and see attached clients and RSSI information remotely – enabling fast customer support.
Remote Cloud on On-Premises Managed
The cnPilot R190V solution can be deployed with Cambium's cnMaestro cloud controller or On-premises controller versions, offering:
Zero touch onboarding
Inventory tracking and monitoring
Dashboard views with alarms
Remote mass upgrade
TR-069 & SNMP management
ezView: Troubleshooting
With ezView, cnMaestro offers rich client and device troubleshooting capabilities integrated with ongoing management. When backhauled wirelessly, ezView's single-pane-of-glass display shows data from clients, the Wi-Fi router (R190V), and the ePMP or PMP 450 wireless links backhauling the router.
IPV4 & IPV6 - For Today and Tomorrow
The R190V supports modern IPV6 network topology
End-to-End Troubleshooting
Single dashboard view and rich statistics ensure rapid root cause detection and issue resolution.
One-click functionality reveals the health of all network nodes related to the problem area
Troubleshoot end user client connectivity on any WLAN from a single console
No truck roll required to debug wired or wireless connectivity configurations
Multiple SSIDs and Service Provider (community) SSID's
Enables service providers to offer SSIDs across their network as users travel from home, to outdoor public hotspot and to local business / small enterprise or campus. This allows network operators to promote their brand throughout their customers' daily journeys.
Adaptive Wi-Fi Architecture:
A variety of access architectures have evolved over two decades of increasing Wi-Fi use within organizations. Some have been driven by product limitations; others have been created to meet security or regulatory requirements.
Among the many questions that arise during network design, administrators need to address the following:
Management – Will the operation benefit more from a cloud-based or on-premises management system?
Traffic separation – Are the organization's requirements best served by local breakout of Wi-Fi traffic, or the extra separation of traffic made possible by tunneling user data to a controller?
Many vendors' solutions lock administrators in to a particular deployment model or network traffic distribution system, but Cambium Networks believes that Wi-Fi network design should conform to the organization's needs, not the other way around.
Cambium Networks cnPilot's Adaptive Wi-Fi architecture enables Wi-Fi integration with existing wired network infrastructure and the cnMaestro™ management system provides scalable, flexible management in addition to Wi-Fi controller features.
The Key Architectural Choices Are:
Where does your user data traffic go? The Wi-Fi AP can bridge it onto Ethernet (also known as local break out). Another option is to tunnel it over an IP-based protocol to a tunnel terminator, which can be a wireless controller or a different third party concentrator.
Where does your Wi-Fi controller and management system run? Some organizations prefer the convenience of a vendor operated cloud-based management system. Others prefer in-house operation – usually with controllers that can manage tens of thousands of access points. For very small deployments, it can make most sense to configure an AP to perform the duties of a controller.
Regardless of your requirements, cnPilot and cnMaestro offer customizable options for a complete Wi-Fi solution that meets your needs.
cnMaestro Cloud

Zero-touch deployment and Cloud-based management lets you easily deploy and control even large networks without requiring an IT team. Cambium operates cnMaestro™ in the cloud, scaling easily to thousands of devices – at no cost to you. The Cambium cloud is a highly redundant system with servers across the globe to ensure high uptime, with a secure HTTPS channel dedicated to communication between Wi-Fi APs and the cloud. cnMaestro™ advanced controller features include scalable guest access and remote login, allowing you to access your management console from anywhere in the world without having to VPN into your organization's internal network.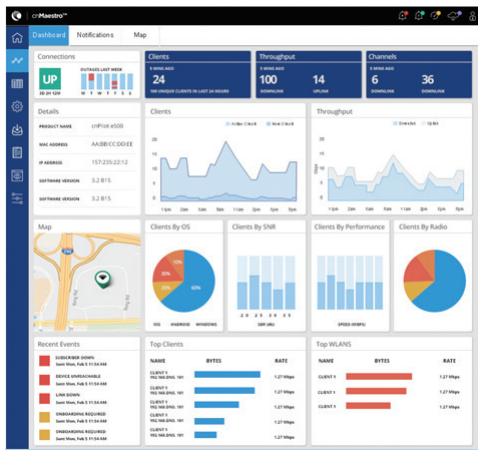 cnMaestro Dashboard
cnMaestro On-Premises

Organizations may choose on-premises management for a variety of reasons. Regulatory or security requirements, or simply preference for in-house management solutions may limit cloud-based control capability. cnMaestro on-premises management is perfect for such organizations, providing the same set of features as cnMaestro cloud management in a virtual appliance package.

cnMaestro on-premises can also terminate data traffic tunneled from cnPilot APs over a tunnel and bridge it out over an isolated VLAN. This is useful if, for instance, you never want to bridge guest traffic at the edge of your internal network.
cnPilot Autopilot

For very small deployments that will not use cloud-based management, cnMaestro on-premises may be impractical for just a few APs. In that case, cnPilot Autopilot lets you designate and configure a master AP to perform double duty as a wireless controller for up to 32 other APs in addition to providing normal Wi-Fi service. All monitoring and configuration can be done from the master AP's UI.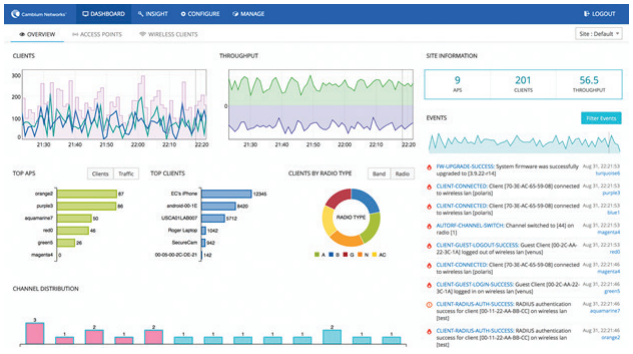 Autopilot
cnPilot and cnMaestro solutions from Cambium Networks make it easy for network administrators to design reliable, efficient connectivity solutions that scale and migrate easily to other architectures according to demand.
Specifications:
R190V
R190W
VoIP SoC
MIPS Single-core 580MHz
Flash
16MBytes Flash
RAM and CPU

64MBytes DDR3 RAM
MT7628N

Power Supply

AC/DC Adapter
AC Input: 100~240V, 50~60Hz
DC Output: 12V, 1.0A

I/O Interfaces

1 RJ-45 for WAN port (Ethernet 100 Base-T)
3 RJ-45 for LAN port (Ethernet 100 Base-T)
2 RJ-11 for FXS port
IEEE802.11 b/g/n

1 RJ-45 for WAN port (Ethernet 100 Base-T)
4 RJ-45 for LAN port (Ethernet 100 Base-T)

Environmental

Operation Temperature: -5~45 Degree C
Storage Temperature: -25~ 85 Degree C
Relative Humidity: 10%~90% No Condensing

Key Feature

100Mbps NAT/NAPT speed
2T2R 2.4G 802.11 b/g/n(300 Mbps)
Support VoIP FXS port with SIP and T.38 FAX

100Mbps NAT/NAPT speed
2T2R 2.4GHz IEEE 802.11 b/g/n(300 Mbps)

Protocols

DHCP/PPPoE
HTTP Server for Web Management
TFTP/HTTP for Auto Provisioning
DHCP Option Codes for SIP (RFC3361)
DNS/DNS SRV (RFC1706 and RFC 2782)
IEEE802.1Q VLAN/802.1p and IP DSCP
SNTP

Audio Codec

G.711 (A-Law, u-Law) with PESQ above 4.3
G.729 with PESQ above 3.7
Adaptive Jitter Buffer Management
Voice Activity Detection
Comfort Noise Generation
Echo Cancellation
T.30 FAX with G.711
Real time FAX over IP via T.38

Wireless

802.11 b/g/n support
4 SSID
Static WEP(64/128bit)
Dynamic WEP(64/128bit)
AES(CCMP/TKIP)
MAC certification
WEP certification
WPA-PAK/WPA-PSK(2.0)
WPA/WPA2
AP Isolation and MBSSID AP Isolation
WMM
WDS
WPS
Station list
Wireless MAC Filter

4 SSID
Static WEP(64/128bit)
Dynamic WEP(64/128bit)
AES/TKIP
MAC certification
WEP certification
WPA/WPA2
AP Isolation and MBSSID AP Isolation
WMM
WDS
WPS
MAC Filter(different from wired MAC Filter)

Applications

NAT mode and Bridge mode
Support DDNS
MAC address cloning
SIP proxy redundancy
NAT Traversal by STUN
Built-in Wired speed NAT Router
DHCP Server and Client
IP conflict detection
Port Forwarding, DMZ, SuperDMZ
802.1Q VLAN/802.1p, DSCP, Rate Limiting
VPN(PPTP,L2TP, IPSec) Passthrough
SNTP
IGMPv2
Firewall(SYN Flooding, IP Spoofing, Smurf Attack, Ping of Death, DoS)

Management

Firmware Upgrade
Web Management Interface
IVR-driven Management Interface
Local and Remote Syslog (RFC3164)
Auto Provisioning
SNTP Time Synchronization
Multi User Level
SNMP v2
Telnet
TR069
System Log: local log and remote log

Firmware Upgrade
Web Management Interface
Local and Remote Syslog (RFC3164)
Auto Provisioning
SNTP Time Synchronization
Multi User Level
SNMP v2
Telnet
TR069
System Log: local log and remote log

Call Features

3-way conference
Call hold
Call forwarding
Call Transfer
Call waiting
Caller ID and CWCID
DTMF Relay: In-band, Out-band and SIP INFO
QoS Layer 3
Call Log
CID/CWCID
Dial Plan
DTMF Mode: Inband, outband and SIP Info
Pricing Notes:
Pricing and product availability subject to change without notice.
Cambium Networks Products
cnPilot Extended Warranty
cnPilot R1XX Extended Warranty, 1 Additional Year
#EW-E1PLR1XX-WW
Our Price: $2.00
cnPilot R1XX Extended Warranty, 2 Additional Years
#EW-E2PLR1XX-WW
Our Price: $3.50
cnPilot R1XX Extended Warranty, 3 Additional Years
#EW-E3PLR1XX-WW
Our Price: $4.25
cnPilot R1XX Extended Warranty, 4 Additional Years
#EW-E4PLR1XX-WW
Our Price: $5.00
cnPilot R1XX Limited Lifetime Warranty
#EW-LLPLR1XX-WW
Our Price: $6.00